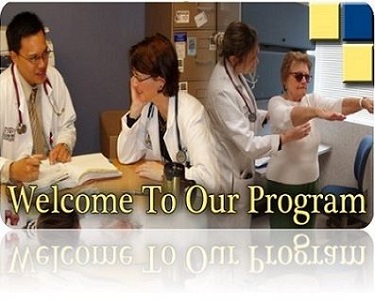 Fellowship in Geriatrics
The Geriatric Medicine Fellowship Program at SUNY Stony Brook prepares internists and family physicians to become highly skilled clinicians and educators in the field of Geriatrics and to acquire the requisite teaching and research skills to pursue a career in academic medicine. Our fellows care for elderly patients with a wide variety of medical problems – from the essentially healthy elder who has limited disease to the frail nursing home resident with multiple comorbidities. To date, we have graduated over 60 fellows who are practicing geriatrics in various settings, teaching trainees, and heading clinical and educational programs. We offer a comprehensive curriculum that covers the full continuum of geriatric care - from the acute inpatient hospital to the outpatient office, to the home or assisted living facility to the teaching nursing home.
The Geriatric Fellowship program is accredited for one year of clinical training. We offer an "Alternative Pathway" two-year track in which physicians spend half of their time as geriatric fellows and half as hospitalists for two years. This track emphasizes the development of leadership skills through formal training and experiential learning. We offer five (5) fellowship positions each year (one through the alternative pathway for two candidates). Recruitment and interviews begin in early September. Applicants apply through ERAS. The Stony Brook Geriatric Medicine Fellowship program participates in the National Residency Matching Program (NRMP).
Overview and Highlights
One year Geriatric Medicine Fellowship accredited by ACGME through 2022; upon completion, fellows eligible to sit for CAQ in Geriatric Medicine
Training in all aspects of Geriatric Medicine – consultative, acute inpatient, sub-acute rehabilitation, home care, assisted living, palliative care/hospice, outpatient
Didactic training in statistical analysis and epidemiology
Excellent continuity of care experience in the outpatient clinic, which offers a multidisciplinary "Enhanced Geriatric Care" program for frail elders at high risk for hospitalization and institutionalization, in the nursing home (through weekly visits), and in the home care program
Leadership training – formal didactics plus experiential learning, participation in Committees, Quality Improvement
Health Literacy training
Opportunities to enhance communication skills through Observed Structured Clinical Exams in Stony Brook's Clinical Simulation Center
Teaching opportunities as inpatient "Junior Attending" physician at the Northport VAMC
Affiliation with three teaching nursing homes with dedicated full-time, board certified faculty
End of life palliative medicine training at University Hospital and with a highly respected community-based hospice program
One-on-one mentoring from experienced faculty
Geriatric board exam preparation
On-line curriculum through GeriU.org