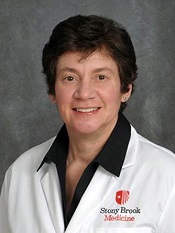 Alison Stopeck, MD
Division Chief
The Division of Hematology & Oncology within the Department of Medicine has been a central component of the Stony Brook University Cancer Center as it has steadily grown in depth and breadth over the last decade. The mission of the Hematology & Oncology Division is threefold: To conduct cutting-edge research that will advance our understanding of the origins of cancer and open new avenues for prevention and treatment, to educate the next generation of cancer researchers and compassionate care providers, and to deliver world-class comprehensive cancer care designed to prevent, cure or minimize the effects of cancer on the population we serve.
We pursue our mission with perseverance and vigor. The research mission is a collaborative effort with basic scientists and clinical researchers within many departments at Stony Brook University, the Northport VA Hospital, and Brookhaven National Laboratory. Our successful translational research has accelerated the application of cancer cellular and molecular biology discoveries to cutting edge practical treatment modalities that have improved the efficacy and reduced the toxicity of previous therapies.
The educational mission encompasses undergraduate, predoctoral and postdoctoral training in basic cellular and molecular cancer biology and education of medical students, internal medicine residents, and postdoctoral fellows in hematology and oncology. These students are exposed to the intellectual curiosity and vigor that will prepare them to maintain life-long self educational skills and to become the pioneers in cancer care of the future.
The organization of clinical cancer care into disease-site specific multidisciplinary groups enables us to delivery patient- and family-centered care with programs in prevention, early diagnosis, state of the art multimodality treatment, and survivorship care that maximizes quality of life. Participation of our medical residents and fellows in these 11 disease-specific teams also enhances their education because they learn to examine the totality of cancer care from the specific viewpoints of the surgical oncologist, radiation oncologist, and medical oncologist.
We are proud of our accomplishments and our contributions to the well being of our community. We also understand that the war on cancer is a marathon that will be waged successfully one disease at a time.