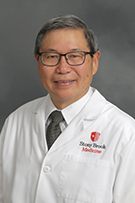 Vincent W. Yang, MD, PhD
Simons Chair and Professor
Department of Medicine
Renaissance School of Medicine at Stony Brook University

On behalf of the faculty, fellows, residents, and staff of the Department of Medicine at Stony Brook University, I warmly welcome you to our website. Here you will find a wealth of information about the academic program of the Department. At the present time, we are striving to further improve the content of the website and populate it with information that will benefit you, as a physician, trainee, researcher, or patient.
As the largest Department in the Renaissance School of Medicine, the Department of Medicine is composed of a diverse range of people and activities. We are committed to the tripartite mission of education, research, and patient care. We are also fully engaged in integrating the strategies and goals of the School of Medicine, Medical Center, and University Faculty Practice.
From an educational perspective, our main teaching hospitals, Stony Brook Medical Center and the Northport VA Hospital, provide an amazing array of clinical pathology. Residents and students also learn from a dynamic faculty who are supportive, available, and excellent teachers. The Department is also going through a significant growth phase to expand its research portfolio with an emphasis on translational research. The research mission is further enhanced by resources provided by the School and University as well as our affiliates, Brookhaven National and Cold Spring Harbor Labs.
I encourage you to visit this site often and please feel free to contact us with any questions.