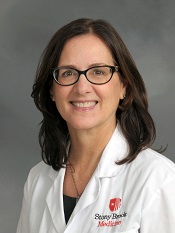 Susan Lane, MD, FACP
Residency Program Director
Vice Chair of Education
Welcome to Stony Brook University Hospital's Department of Medicine Residency Training Program. I have been the Director of the Internal Medicine Residency Program for the past 6 years, having previously directed our Primary Care Program and served as an Associate Program Director for 9 years. As a former clerkship director and as the current Vice Chair of Education, I understand how integral a well-run residency program is to the health and vitality of the academic mission of our medical center. Our Stony Brook Leaders, including the University President, Renaissance School of Medicine at Stony Brook University Dean, and the Chair of Medicine, are all dedicated to advancing our first-rate training program.
I am delighted by your interest, and look forward to telling you more about Stony Brook Internal Medicine:
Goals of Our Program:
The Stony Brook Internal Medicine Program supports and guides residents as they develop and refine their professional identity during training. Our residency program supports all aspects of professional identity formation including acquiring knowledge and skills, promoting attitudes of humanism and compassion, fostering habits for well-being, providing mentorship and feedback, and cultivating a practice of reflection. The specific goals of the program are that the Stony Brook trained physician:
• Provides care that is compassionate, high-value, patient-centered care
• Possesses skills for life-long learning and has an attitude of inquiry and discovery
• Aspires to be a resilient leader and role model in the medical community
• Possesses skills necessary to focus on harm prevention and strategies to mitigate medical errors
• Practices self-care in order to maintain and foster wellbeing
• Embraces diversity and honors the diverse needs of patients, families, staff, colleagues, and learners
Our Strengths
We are very proud of Stony Brook and all it has to offer our trainees. Our three-year Medicine Residency program, fully accredited by the ACGME, offers tremendous patient diversity and clinical opportunities. We provide a robust academic environment that achieves a balance between the intensely clinical and analytical facets of medical practice and the reflective and rewarding aspects of direct patient care. Highlights of our program include:
A "closed-faculty" system, where the same attending is responsible for all of the patient care and teaching for the general medicine teaching teams. The effort of tracking down multiple attendings is removed and collegial relationships with faculty flourish.
A "4 +1" system, whereby you participate in four weeks of ward, elective, or ICU clinical duties, followed by one week of continuity clinic. This scheduling eliminates the inevitable conflict between the inpatient and outpatient areas, while significantly enhancing opportunities for personal growth and improving the quality of life for our residents. In addition, this innovative scheduling improves the educational and clinical experience in our residents' continuity clinics, giving our residents a true experience of the pleasure and value of primary care medicine.
Two outstanding teaching hospitals with diverse patient populations. Our hospitals are the only referral hospitals for Suffolk County. At the Stony Brook University Hospital and the Northport Veterans Affairs Medical Center, residents learn by caring for patients with common problems and rare syndromes, enabling our graduates to practice with confidence anywhere, in any situation. We are nationally recognized as leaders in quality health care, and have state-of-the art centers in cardiac care, oncology, digestive disorders, and neuroscience. Stony Brook has an academic affiliation with two nearby renowned research facilities, Cold Spring Harbor and the Brookhaven National Laboratory.
Unwavering emphasis on the teaching mission of the residency program which has been made possible by the substantial expansion of our hospitalist program, allowing us to "off-load" the inpatient resident services, maintaining our census caps below the ACGME limits, and increasing time available for bedside teaching rounds and pursuit of scholarly endeavors including outcomes research, clinical trials, investigator-initiated clinical research, and educational research. Our residents are co-authors on projects presented at National and International Society meetings and scholarly publications in peer-reviewed journals.
A fabulous place to live. Suffolk County and the Stony Brook area are beautiful, safe environments with an abundance of nearby and easily accessible venues, including pristine beaches for surfers and sunbathers, and scenic bike trails for riders of all skill levels. Our charming villages, local wineries, and a wide variety of casual pubs and farm-to-table restaurants offer entertainment options for all tastes. With a world class University right across the road, you have ready access to film festivals, concerts, and sporting events. Our local school systems are nationally top-rated, with an annual slate of finalists and semifinalists for Intel and Siemens-Westinghouse science awards and National Merit Scholarships.
Exceptional career preparation. Many of our graduates go on to train in highly competitive fellowship programs, while others pursue careers in practice in both hospitalist and ambulatory settings. Our residents are highly sought after on Long Island and across the country.
An upbeat, caring, experienced administrative staff that emphasizes service. I invite you to visit and explore what we have to offer!

About Dr. Lane:
Dr. Lane is Program Director of the Internal Medicine Residency Program, Vice Chair of Education, and Professor of Medicine.
"I attended Amherst College and earned a B.A. in Biology. After teaching 9th and 10th grade French and Biology and coaching field hockey and lacrosse for a few years after college, I completed a post-baccalaureate year at Bryn Mawr College and then attended the University of Connecticut School of Medicine where I met my husband, Dr. Andrew Lane. We moved to Rochester, NY where I trained in internal medicine at Strong Memorial Hospital. After residency I joined Harvard Vanguard Medical Associates where I was in private practice in Wellesley, Massachusetts and covered Vanguard inpatient teaching service at Brigham and Women's Hospital. I joined the Stony Brook Medicine faculty in 2000, working in both the inpatient and outpatient settings. I became Associate Program Director of the Internal Medicine Residency Program and Director of the Primary Care Track in 2004. In 2007 I was asked to develop and direct a new Ambulatory Clerkship for the School of Medicine, which I co-directed until 2013, when I became Program Director for the Internal Medicine Residency Program.
Teaching has been a life-long pursuit of mine and I am happiest when I am able to help a student, a resident, or a patient understand a new topic or work on a solution to a problem. I am passionate about communication and the essential role it plays in medicine. I am interested in healthcare policy and serve on several health policy committees. My research focuses on medical education and Graduate Medical Education funding reform.
Andy and I are the proud parents of three boys, a cat and dog, and we live in East Setauket, NY. "