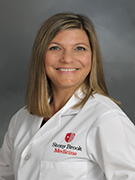 Olga C. Aroniadis, MD, MSc, FACG
Division Chief, Gastroenterology and Hepatology
Associate Professor of Clinical Medicine
Director, Masters in Epidemiology and Clinical Research Program, Program of Public Health
Director, Women's Health Center for Gastroenterological Diseases and Disorders
Stony Brook Medicine

Gastroenterology and Hepatology at Stony Brook specializes in the prevention, diagnosis and treatment of diseases of the digestive tract and liver. Outpatients and patients in the hospital are treated by physicians with expertise in all forms of gastroenterological and hepatobiliary diseases. Highly-skilled members of the Division perform over 13,000 endoscopic procedures in our state-of-the-art facilities.

These procedures are part of an integrated and sophisticated approach to the care of patients with gastrointestinal and liver diseases by members of our faculty. High-quality care depends upon scientific discovery. Our faculty members are conducting clinically important investigative work that includes: new drug discovery; development of methods to prevent cancer using novel approaches such as nanotechnology and magnifying endoscopy; clinical trials; and studies on inflammatory bowel disease and disorders of gut-brain interaction.

The goal of our research efforts is to ultimately improve the care of patients. I welcome you to our website and would appreciate your feedback.