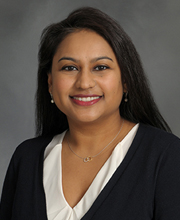 Farah Monzur, MD, GI Fellowship Program Director
Why Choose Stony Brook for your Residency or Fellowship?
Welcome to the Stony Brook Gastroenterology and Hepatology Fellowship Training Program! We offer a three-year ACGME-accredited fellowship training program with four fellowship positions per year for a total of 12 gastroenterology fellows. Additionally, we offer a one-year interventional endoscopy fellowship (click HERE for more information).
Our fellowship program is dedicated to training fellows in all aspects of gastroenterology and hepatology, helping them to become skilled academicians, clinicians and researchers. This mission is supported by one of the best universities in the nation, Stony Brook University. We have the benefit of having excellent faculty and staff as well as outstanding clinical and research facilities.
All of the faculty in our Division are "core faculty" who are engaged heavily in the education and training of fellows. Furthermore, most of the faculty are dedicated to service and as such, involved in national committees in leadership positions. Each faculty member has an area of expertise in one of the subspecialties of GI (pancreaticobiliary, IBD, motility, and liver).
We have two clinical training sites, Stony Brook University Hospital and the Northport VA Medical Center. Stony Brook serves as Suffolk County's major tertiary referral center. Both centers allow our trainees to experience a diverse patient population and a wide range of pathology.
Our ABIM last five-year pass rate (2018-2022) is 100%.

Our curriculum and rotations are designed to give the fellows ample exposure to general gastroenterology as well as GI subspecialties in both the outpatient and inpatient settings. Our endoscopy training includes all standard GI procedures as well as dedicated training in complex endoscopy. Over 12,000 procedures per year are performed at the University Hospital. 
We have a multitude of regularly scheduled conferences fostering a stimulating learning environment. Moreover, we have a robust research curriculum for the GI fellows led by our Director of Clinical Research. As such, our fellows are engaged in clinical research and have quarterly "works-in-progress" reports on their research.
Overall, our fellowship program is fellow-centric, focused on guiding fellows to their career goals and path. We offer career development guidance early on during the fellowship. Moreover, we understand the importance of mentorship and help cultivate that network both in and outside of our institution. Indeed, with exceptional clinical training and research opportunities, our fellows are well-prepared to enter any practice environment and have been very successful in their future endeavors.
We would like to sincerely thank you for your interest in our program and look forward to your application.
Sincerely,
Farah Monzur, MD
Program Director, Stony Brook University GI Fellowship Program
Beth Jaronczyk
Program Coordinator, Stony Brook University GI Fellowship Program
Peter Shue, MD
Associate Program Director, Stony Brook University GI Fellowship Program