Eckard Wimmer Graduate Student Scholarship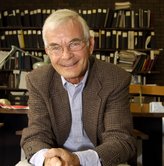 Distinguished Professor Eckard Wimmer is a founding member and former chair of the Department (1984-1999). Dr. Wimmer is recognized internationally for his contributions to the field of animal virology and, in particular, picornavirus biology. He has received numerous awards including two Merit Awards from the National Institutes of Health, the M.W. Beijerinck Virology Prize by the Royal Netherlands Academy of Arts and Sciences, Fellow of the American Association for the Advancement of Science, Fellow of the American Academy for Microbiology, and Fellow of the Deutsche Akademie der Naturforscher Leopoldina von 1652.
The Eckard Wimmer Graduate Student Scholarship was created by friends and associates of Professor Wimmer in 2011 in recognition of his contribution to science and the department. This scholarship is given to exceptional students at the time of their admission to the Molecular Genetics and Microbiology Graduate Program.
Recipients:
2017 Stephen Guadino
2018 Lia Parkin
---
MGM Scholarships
An account for private scientific and biomedical corporations interested in supporting a graduate student or postdoctoral fellow training in the Department of Microbiology and Immunology with a paid scholarship.
---
To make a gift with a credit card, use the Stony Brook Foundation secure online giving page.
Information on gifts of securities and planned giving may be found at the Stony Brook Foundation.