Welcome to Stony Brook Medicine's BioBank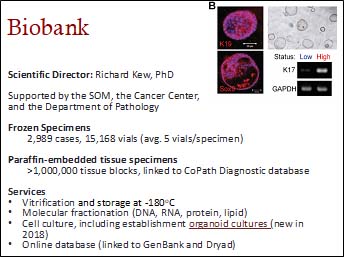 The Biobank is a core facility of the Department of Pathology and the Stony Brook Cancer Center. It archives and provides biological specimens collected under informed consent to Stony Brook researchers and their collaborators.  Originally established in 2004 by the Department of Pathology in the Stony Brook University School of Medicine, now known as Renaissance School of Medicine at Stony Brook University. The Biobank supports specimen-based research at Stony Brook University. The Biobank team works closely with individual Principal Investigators as well as surgeons to obtain biological specimens under-informed patient consent. Banking of biomedical specimens is done in a state-of-the-art, dedicated laboratory to ensure complete molecular and morphological integrity. Our newly refurbished Biobank houses normal and malignant biological specimens including tissue samples, organs, bodily fluids, and other biomaterial using vapor phase liquid nitrogen cryogenic storage at -196°C, which allows for better cell preservation and revival than -80°C freezing. This highly effective storage system gives researchers access to a host of powerful investigative tools, which may help to improve diagnoses and treatments for a variety of conditions. The biobank collects patient specimens obtained under informed consent, including bodily fluids and tissues and also serves as a repository for organoid cultures (Colorectal and pancreatic cancer), and oversees the archival repository of formalin-fixed, paraffin-embedded tissue specimens. 
All biomaterial acquired is first processed by the resident/attending physicians and pathology assistant of the pathology grossing room to ensure that diagnosis is never compromised by banking. We also do 'runs' to the Operating Rooms (ORs) for time-sensitive materials and specific studies. We use the most stable methods of preservation for both molecules and tissue morphology: liquid nitrogen vitrification (LN2 - cryogenics). The lab is also equipped to perform tissue vitrification, to maintain membrane integrity under storage at -180°C. We also offer a choice of cryoprotectants (DMSO) and buffers (RNA/DNA LaterTM), based on the future use and the harvesting method. Tissue data, both electronic (medical history, diagnosis, digital images, etc.) and physical (PDF scans of consents forms, etc.), are also archived in a day-to-day, secure database, Freezerworks Unlimited™ . The data and consents are held in a secure, hospital-based and protected database. No PHI (protected health information) is released. For more information about the patient's rights and IRB policies, see the Stony Brook University Office of Research Compliance Human Subjects in Research page. To request tissue samples, researchers must submit a request form to the BioBank scientific and medical directors. The request form requires an explanation of the tissue requested (type, number of samples, justification), description of the study, IRB approval and Principal Investigator's authorization. The biobank directors review each request for feasibility before presentation to the BioBank Review Committee.
All Biobank requests go through iLab
Any person using iLab to request specimens and/or services must be an authorized user of an account set up in ERAS.  A delegate or owner of a fund must log into ERAS and assign funds where appropriate. All funds owned by one PI are in one lab, and researchers with access to that fund are listed in the same lab. When a researcher requests a service, they first must select the lab, then select the fund. This link will get you started with iLab:
https://cores.stonybrookmedicine.edu/service_center/show_external/3974 
Log into the Biobank Core on iLab in the upper right corner of the screen, you will be directed to a new page to enter your Stony Brook NetID.  Once logged in you may begin.  The main Request Services tab lists the types of samples requests and a list of services with prices. Select the appropriate initiate request tab on the right side of the screen next to begin the request process. Detailed instructions for using iLab are available on the help site link: http://help.ilabsolutions.com/core-facilities-customers. You may also click on the "HELP" link in the top of the page in the upper right hand corner.