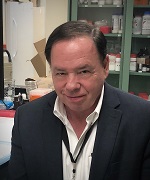 Welcome to the Department of Pathology at Stony Brook Medicine. This website highlights our achievements in medical education, basic and translational research, and in diagnostic service. These pages also include important information related to our Residency and Fellowship training programs in Anatomic and Clinical Pathology.
Members of the Department of Pathology support of the tripartite missions of the School of Medicine, the Cancer Center, and Stony Brook University, to excel in clinical service, education, and research. Since our founding over forty years ago, our national leaders in academic Pathology have included Dr. Arthur Upton (former Director of the National Cancer Institute), Dr. Marvin Kuschner (the founding chair of the Department of Pathology and a pioneer in research of chemical carcinogenesis and cigarette smoking), Dr. Lauren Ackerman (author and founding editor of Ackerman's Surgical Pathology), Dr. Jorge Benach (discoverer of the etiologic agent of Lyme Disease and current interim Vice Dean for Research), and Dr. Martha Furie (former President of the American Society for Investigative Pathology, current Senior Editor of the American Journal of Pathology, and Director of Stony Brook University's Graduate Program in Genetics).
Members of our department are authorities in Anatomic and Clinical Pathology, innovators in graduate student, medical student, and resident education, and they engage in high impact basic and translational cancer research. The department is both a basic science and clinical department and provides comprehensive service in all aspects of laboratory medicine, as well as in surgical pathology and cytopathology. Thus, our faculty members are bridging the gap from bench to bedside research with the goal of improving the effectiveness of clinical diagnosis and medical care for the citizens of New York and the broader community.
Stony Brook Medicine is the premier medical research institution in Suffolk County and a central component of Stony Brook University, one of the nation's leading public research universities. University Hospital was recently named one of the three most beautiful hospitals and is located on the grounds of the university's 1,400-acre main campus on Long Island's North Shore, about 50 miles east of New York City. The campus is home to nearly 24,000 students, encompassing an 8,300-seat stadium, sports complex and the Staller Center for performing arts.

Kenneth R. Shroyer, MD, PhD
The Marvin Kuschner Professor and Chair of Pathology
Stony Brook Medicine