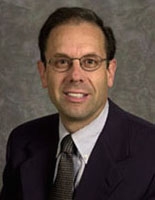 Howard B. Fleit, PhD
Associate Professor
Vice Chair for Education
Assistant Dean for Curriculum, Renaissance School of Medicine at Stony Brook University
Basic Sciences Tower, Level 9
Stony Brook Medicine
Stony Brook, NY 11794-8691

Tel: (631) 444-3020
Fax: (631) 444-3424
Email: howard.fleit@stonybrookmedicine.edu

Research Summary:
Howard Fleit is an immunologist whose research focuses on cellular components of the innate immune system. Phagocytic cells, such as macrophages and neutrophils, are members of the innate immune system and have receptors (Fc receptors) on their plasma membranes that bind antibody molecules and thereby bridge the adaptive immune response to cells of the innate immune system. Fleit utilizes biochemical and cell biological techniques to study how different classes of these receptors transduce a signal in the phagocytes to trigger them to release toxic oxygen intermediates, such as superoxide, which can destroy antibody-coated bacteria.
Education:
Institution and Location
Degree
Year(s)
Field of Study
SUNY at Buffalo, NY
B.A.
1973
Biology
SUNY at Buffalo, Roswell Park Memorial Institute Division, NY
M.S.
1974
Natural Sciences
New York University, NY
Ph.D.
1980
Cell Biology - Basic Medical Sciences
Positions and Employment:

1976-80

Graduate Student, New York University School of Medicine
1980-83

Postdoctoral Fellow, The Rockefeller University, NY
1983-89

Assistant Professor, Department of Pathology, Stony Brook University
1989-present

Associate Professor, Department of Pathology, Stony Brook University
2009-present
Vice Chair for Education, Department of Pathology, Stony Brook University
2012-present
Assistant Dean for Curriculum, School of Medicine, Stony Brook University
Other Experience and Professional Memberships:

1986-present
American Association of Immunologists
1986-present
Society for Leukocyte Biology
1979-present
American Association for the Advancement of Science
2007
Harvard-Macy Program for Leading Innovations in Health Care and Education
Honors:

1981-83

American Cancer Society Fellowship
1984

NIH New Investigator Award
1985

New York State UUP Faculty Development Award
1986

Catacosinos Young Investigator Award
1986
Sinsheimer Foundation Scholar Award
1987
Provost's Faculty Travel Grant
1994

New York State UUP Continuing Faculty Development Award
1999, 2002

New York State UUP Professional Development Award
2008
Aesculapius Award for Teaching
Peer Reviewed Publications: