Alan Heimann, MD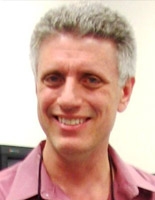 Associate Professor
University Hospital Level 2, Room 766
Stony Brook Medicine
Stony Brook, NY 11794-7025

Tel: (631) 444-2222
Fax: (631) 444-3419
Email: Alan.Heimann@stonybrookmedicine.edu
Clinical Practice:
Dr. Heimann is Board Certified in Anatomic Pathology (1986) and Cytopathology (1992).
Education:
Institution and Location
Year(s)
B'Nei Akiva Scholarship Institute, Israel
1971
City College of New York, NY
1975
Free University of Brussels, Faculty of Medicine, Belgium
1978
Yale University, School of Medicine
1981

Positions and Employment:
1985
Member of Hospital Cancer Committee
1983-85
Pathology representative on House Staff Council
1981-85
Residency: Anatomic Pathology Yale - New Haven Hospital, New Haven, CT
1985-86
Fellow in Cytology, M.D. Anderson Cancer Center, Houston, TX,
1987-93
Assistant Professor of Clinical Pathology
1993-present
Associate Professor of Clinical Pathology

Honors (selected):

1986
Texas Society of Pathologists, Residents & Fellows Scientific Award
1991-92
BRSG Award to study prognostic markers in breast cancer $5000
Peer Reviewed Publications:
Ortman, R., Heimann, A. Changes in erythrosinophils of the anterior lobe of the adenohypophysis during sexual development and after copulation in the Male Mongolian Gerbil. Biology of Reproduction, 22, 1245-1253, 1980.

Marieb, J.J., Spangler, S., Kashgarian, M., Heimann, A., Schwartz, M.L., Schwartz, P.E., Cushing's Syndrome secondary to ectopic cortisol production by an ovarian carcinoma. Journal of Clinical Endocrinology and Metabolism, 57, 737, 740, 1983.

Heimann, A., Merino, M.J. Carcinomatous Meningitis as the initial manifestation of breast cancer. Acta Cytologica 30:1, 25-28, 1986.

Knight, A., Lowell, D.M., Heimann, A., Dunn, E. Breast aspiration and nipple discharge cytology. A review of 1003 cases over ten years. Surgery, Gynecology, and Obstetrics, 163:415-420, 1986.

Heimann, A., White, P., Barwick, K., Reily, C., Flye, W. Hepatoblastoma presenting an isosexual precocity. The clinical importance of its histologic and serologic parameters. J. Clin. Gastroenterology, 9:1, 105-110, 1987.

Heimann, A., Sneige, N., Skirhoda, H., DeCaro, F. Fine needle aspiration cytology of thymolipoma: A Case Report. Acta Cytologica 31:3, 335-339, 1987.

Heimann, A., Sibony P., Elias, J. A case of eosinophilic granuloma confirmation by immunohistochemistry. Journal of Histotechnology 11:3, 159-162, 1988.

Heimann, A., Moll, U. Spinal metastasis of a thyroglobulin rich Hurtle cell carcinoma detected by F.N.A., light and electron microscopic study of an unusual case. Acta Cytologica, 33:5, 639-644, 1989.

Elias, J.M., Heimann, A., Cain, T., Margiotta, M. Gallery, F., Gomes, C. Estrogen receptor localization in paraffin sections by enzyme digestion. Repeated applications of primary antibody and Imidazole. J. Histotech. 13:1, 29-33, 1990.

Heimann, A., Cramer, H., Patel, S., Gratzner, H. Katz, R.L. Determination of the rate of DNA Synthesis of Human tumor cells obtained by Fine Needle Aspiration Comparison of flow cytometry and an Immunoperoxidase method for detection of Thymidine Analogue incorporation. Anal. & Quant. Cyto. Hist., 13:5, 371-378, 1991.

Nuovo, G.J., Walsh, L.L., Gentile, J.L., Blanco, J.S., Doulos, J., Heimann, A., Correlation of the papanicolau smear and human papillomavirus type in women with biopsy proven cervical squamous intra epithelial lesions. AJCP, 96:544-548, 1991.

Elias, J.M., Heimann, A., Abel, W., Margiotta, M. Steroid hormone receptors in male breast cancer. Journal of Histotechnology 14;2:123-125, 1991.

Heimann, A., Scanlon, R., Gentile, J., MacConnell, P., Nuovo, G.J. Measles cervicitis: Report of a case with cytological & molecular biological analysis. ACTA Cytologica, 36:5, 1992.

Elias, J.M., Qiao, L., Heimann, A., Engellener, W., Abel, W. Parrafin embedded Breast Carcinomas for immunohistochemical study of prognostic factors: J. Histotech., 15:4, 315-320, 1992.

Ippolito, J., Mechanic, L., Heimann, A. Transthyretin Amyloid: A case study. J. Histotech., 15:4, 325-327, 1992.

Heimann, A., Gentile, J., Madariga, J., Brand, D., Meek, A., Lane, B. Cytoologic and histologic changes in radiated loops of transplanted small bowel. ACTA Cytologica, 37:3, 287-299, 1993.

April, M., Heimann, A., Jung, L., Gelato, M. Follicular variant of papillary carcinoma with hyperthyroidism. Otolaryngology Head & Neck Surgery, 113:628-631, 1995.

Elias JM, Massood S, Heimann A, Barnes RE, Margiotta M, Villos BH, Sexton T. Relationship of Haptoglobin-Related Protein (OA-519) to Newer Prognostic Markers in Breast Cancer. An immohistochemical study on routine parrafin sections. J. Histotech., 19:1, 13-21, 1996.

Sussman SK, Kho S, Cersosimo E, Heimann A. Coexistence of Malignant Stuma Ovarii and Graves Disease. Endocrine Practice, Sept.-Oct. 2002, Vol 8, #5.

Concha LB, Carlson HE, Heimann A, et. al. Interferon Induced Hypopituitarism. American Journal of Medicine, 114:161-163, 2003.