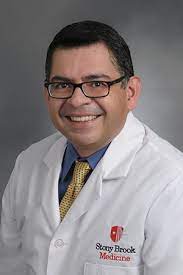 Luis A. Martinez, PhD
Associate Professor
Department of Pathology
Email: Luis.Martinez@stonybrookmedicine.edu
Research Interests: Dr. Martinez's research is focused on understanding how alterations in the p53 gene contribute to the development of cancer. The wildtype form of p53 is a critical tumor suppressor gene that is frequently inactivated in human cancers. The majority of genetic lesions suffered by this tumor suppressor gene are missense mutations that disable its ability to block tumor development. However, these missense mutations can also give rise to mutant forms of p53 (mutant p53) that function as oncogenes that promote cancer progression through what is collectively referred to as gain-of-function (GOF) activities. One of the primary areas of investigation in Dr. Martinez's laboratory has been to determine the underlying mechanism(s) that permit mutant p53 to exhibit GOF activity. His laboratory discovered that mutant p53 is recruited to approximately 50% of its transcriptional targets through an interaction with the ETS2 transcription factor. Additionally, the work from Dr. Martinez's laboratory implicated the mutant p53/ETS2 complex as a common mechanism by which different mutant p53 proteins are able to regulate the same spectrum of transcriptional targets. This fundamental mechanism has since been validated by other laboratories and appears to be the predominant mechanism by which mutant p53 controls the expression of any genes that mediate its oncogenic activity. We have also established that mutant p53 can stabilize the ETS2 protein (and not other ETS family members), by disrupting its ubiquitin-mediated degradation. The stabilization of ETS2 by mutant p53 thus serves to amplify mutant p53's ability to regulate gene expression by increasing the abundance of mutant p53/ETS2 complexes. Future studies are aimed at further dissecting how this transcriptional target regulates gene expression and how the interaction of mutant p53 with other proteins contributes to tumor progression.
| | | | |
| --- | --- | --- | --- |
| Education: |   |   |   |
| Institution and Location | Degree | Year | Field of Study |
| University of Texas at Austin | B.A. | 1994 | Biological Sciences |
| University of Texas at Austin | Ph.D. | 1998 | Biology |
Positions and Employment:

1994-1998

Graduate research assistant, Dept. of Carcinogenesis, UT Austin/M.D. Anderson Cancer Center,

Houston, TX

1999-2001

Postdoctoral Fellow, Dept. of GU Medical Oncology, M.D. Anderson Cancer Center, Houston, TX

2001-2004

Postdoctoral Fellow, Institut Andre Lwoff, Villejuif, France

2005-2008

Assistant Professor, Dept. of Otolaryngology, UTMB, Galveston, TX

2009-2015

Associate Professor (with tenure), Dept. of Biochemistry, Jackson, MS

2015-present

Associate Professor, Dept. of Pathology, Stony Brook University, Stony Brook, NY
Selected Publications:
Do PM, Varanasi L, Fan S, Li C, Newman V, Chauhan K, Daniels SR, Boccetta M, Li R, Martinez LA* Mutant p53 cooperates with ETS2 to Promote Etoposide Resistance.  Apr 15, 2012; 26 (8); Genes & Development, PMID:22508727 *co-corresponding author
Kollareddy M, Dimitrova E, Vallabhaneni KC, Chan A, Le T, Chauhan KM, Carrero ZI, Ramakrishnan G, Watabe K, Haupt Y, Haupt S, Pochampally R, Boss GR, Romero DG, Radu CG, Martinez LA. * Regulation of Nucleotide Metabolism by Mutant p53 Contributes to its Gain-of Function Activities. Nature Communications 2015 Jun 12;6:7389 PMID:26067754 *corresponding author
Ghosh M, Saha S, Bettke J, Nagar R, Parrales A, Iwakuma T, van der Velden AWM, Martinez LA*. Mutant p53 suppresses innate immune signaling to promote tumorigenesis. Cancer Cell. 2021 Jan 23;. doi: 10.1016/j.ccell.2021.01.003. [Epub ahead of print] PubMed PMID: 33545063 *corresponding author
Monisankar Ghosh, Suchandrima Saha, Jinyu Li, David C Montrose, Luis A. Martinez* p53 engages the cGAS/STING cytosolic DNA sensing pathway for tumor suppression. Preprint bioRxiv doi: https://doi.org/10.1101/2022.05.26.493595. *corresponding author