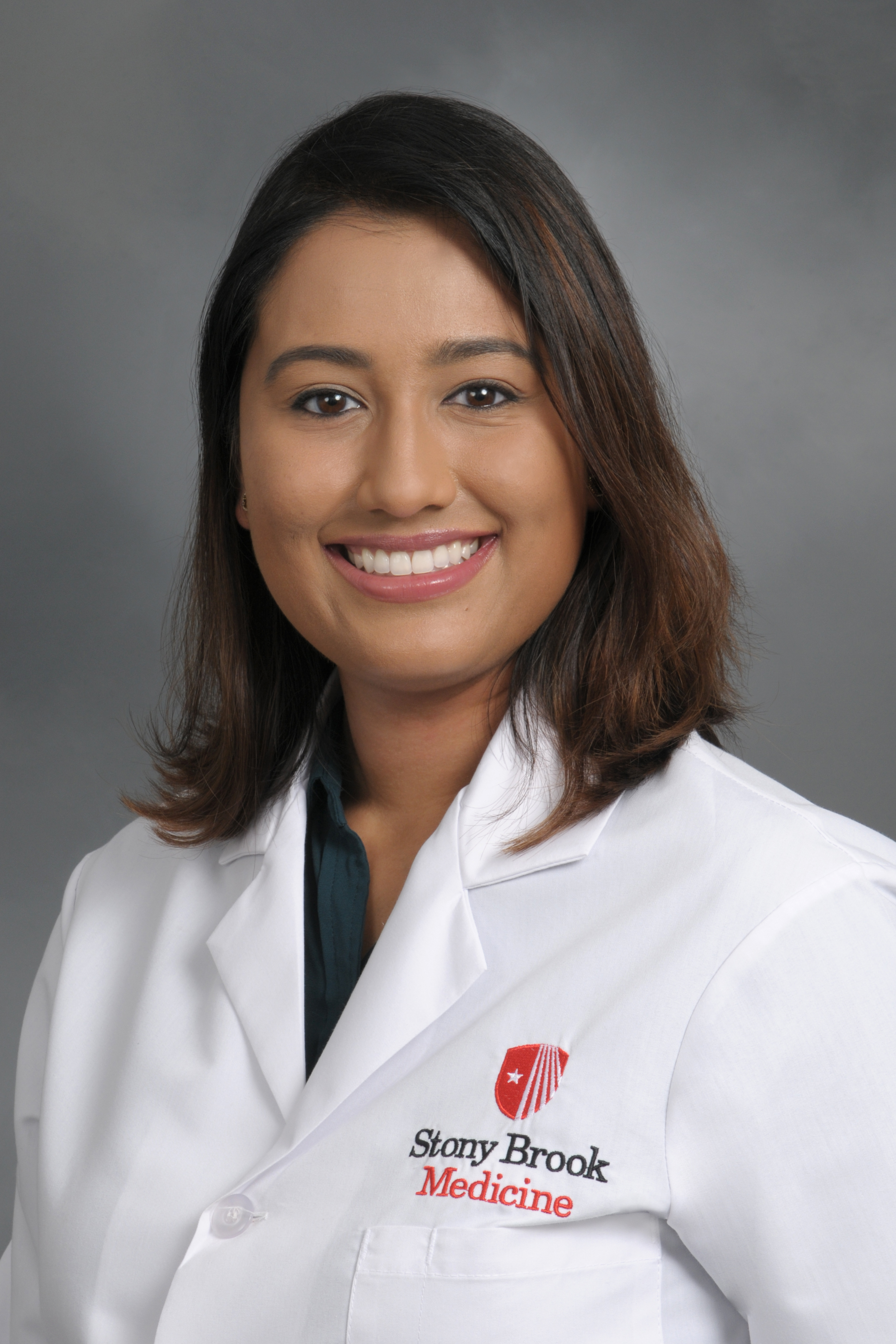 Rekha Reddy, DMD
Assistant Professor
Director of Oral Pathology
Stony Brook University Hospital, Level 2
Stony Brook, NY 11794-7025
Tel: (631) 444-2600
Fax: (631) 444-3419
Email: Rekha.Reddy@stonybrookmedicine.edu
| | | | |
| --- | --- | --- | --- |
| Education: |   |   |   |
| Institution  | Degree | Year (s) | Field of Study |
| University of Florida | BS | 2012 | Biology |
| Univ. of Florida College of Dentistry | DMD | 2016 | Dentistry |
| Postdoctoral Training: |   |   |   |
| Univ. of Florida College of Dentistry | Residency | 2016-2019 | Oral and Maxillofacial Pathology |
Current Appointments:
2021
Assistant Professor, Stony Brook University Hospital
Certifications and Professional Memberships:
Diplomate
American Board of Oral & Maxillofacial Pathology
Fellow
American Academy of Oral & Maxillofacial Pathology
Fellow
American Academy of Oral Medicine
Peer-Reviewed Publications:
Vargo RJ, Reddy R, Da Costa WB, Mugayar LRF, Islam MN, Potluri A. Molar-Incisor Malformation: Eight New Cases and a Review of the Literature. Int J Paediatr Dent. 2020 Mar;30(2):216-224. doi: 10.1111/ipd.12592. Epub 2019 Nov 14.
Reddy R, Jagtap R, Kashtwari D, Hambrook CC, Freburg-Hoffmeister DL, Islam MN, Cohen DM, Shenoy A, Bhattacharyya I. Benign Fibro-Osseous Lesion and Odontoma of the Mandible: A Report of a Rare, Hybrid Lesion and Review of Literature. J Oral Maxillofac Surg Med Pathol. 2019 Nov;31(6):415-419. doi: 10.1016/j.ajoms.2019.05.002. Epub 2019 May 24.
Malinoski H, Reddy R, Cohen DM, Bhattacharyya I, Islam MN, Bowers IV TL. Oral Melanomas: A Case Series of a Deadly Neoplasm. J Oral Maxillofac Surg. 2019 Sep;77(9):1832-1836. doi: 10.1016/j.joms.2019.03.018. Epub 2019 Mar 26.
Reddy R, Fitzpatrick SG, Bhattacharyya I, Cohen DM, Islam MN. Seventeen New Cases of Chronic Ulcerative Stomatitis with Literature Review. Head Neck Pathol. 2019 Sep;13(3):386-396. doi: 10.1007/s12105-018-0982-7. Epub 2018 Oct 29.
Reddy R, Islam MN, Bhattacharyya I, Cohen DM, Fitzpatrick SG, Ganatra S. The Reliability of MAML2 Gene Rearrangement in Discriminating Between Histologically Similar Glandular Odontogenic Cysts and Intraosseous Mucoepidermoid Carcinomas. Oral Surg Oral Med Oral Pathol Oral Radiol. 2019 Jun;127(6):e136-e147. doi: 10.1016/j.oooo.2018.12.003. Epub 2018 Dec 14.
Reddy R, Woods TR, Allan RW, Malhotra P, Mehta HJ, Sarkar PK, Boyce BJ, Asirvatham JR. NUT (Nuclear Protein in Testis) Carcinoma: A Report of Two Cases with Different Histopathologic Features. Int J Surg Pathol. 2019 Apr;27(2):225-229. doi: 10.1177/1066896918796606. Epub 2018 Aug 27.
Reddy R, Davidova L, Bhattacharyya I, Cohen DM, Islam MN, Fitzpatrick SG. Dermatologic Lesions Submitted to an Oral and Maxillofacial Pathology Biopsy Service: An Analysis of 2487 Cases. Head Neck Pathol. 2018 Dec;12(4):493-499. doi: 10.1007/s12105-018-0885-7. Epub 2018 Jan 16.