Kanokporn Noy Rithidech, PhD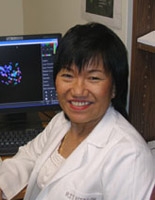 Professor of Research Pathology
Basic Sciences Tower, Level 9
Stony Brook Medicine
Stony Brook, NY 11794-8691
Tel: (631) 444-3446
Fax: (631) 444-3424
E-mail: Kanokporn.Rithidech@stonybrookmedicine.edu
Research Summary:
One of my longstanding interests is the identification of mechanisms involving radiation (both found on earth and in space) induced myeloid leukemia (rML) using the CBA/Ca mouse model. It is clear that radiation can induce ML in mice and human beings. However, little is known of the molecular mechanism(s) by which radiation induces the leukemogenic phenotype. One of my current research projects involves the investigation of the patterns of radiation-induced genetic and epigenetic damage in hematopoietic stem/progenitor cells that trigger the induction of genomic instability (a key event in cancer development). The whole genome multi-color fluorescence in situ hybridization (mFISH) and DNA methylation profiles are being used to characterize the early and late response following in vivo exposure to ionizing radiation, and to determine whether differences in response patterns are associated with the subsequent expression of genomic instability or rML. The results from this project will have a significant impact on the future development of a novel mechanism-based therapeutic strategy to prevent or mitigate the acute or long-term effects of radiation on cells at risk for rML. In addition to the effects of high doses of radiation, I am also investigating the protective effects of low-dose radiation (doses <100 mSv).
Further, one of the major efforts in my laboratory has been the identification of in vivo molecular biomarkers of response to and effects of radiation that could be potentially valuable for dose assessment and predicting early and late health risks. This research area is highly relevant to public health due to an increased utilization of radiation in daily life and concern about the possibility of radiological terrorism and/or a nuclear accident. The results will have a major impact on the discovery and development of novel predictive biodosimetry for exposure to radiation that, in turn, will lead to accurate triage, outcome prediction, treatment, and effective medical countermeasure strategies in the event of radiological terrorism and/or a nuclear accident.
Another focus of my research interest is the application of cutting-edge proteomic technologies for the discovery of blood biomarkers in human diseases such as multiple sclerosis (MS). A simple blood test that provides a rapid and reliable diagnosis for MS, if identified, would be a major advance in the management of this disease.
Education:
Institution and Location
Degree
Year(s)
Field of Study
Chulalongkorn University, Thailand
B.S. (Hon.)
1969
General Sciences
University of the Philippines, Philippines
M.S.
1973
Cytogenetics
University of Texas Medical Branch, TX
Ph.D.
1987
Genetic Toxicology
Inhalation Toxicology Research Inst., Lovelace Biomed. and Environmental Research Inst., NM
Postdoctoral
1988
Molecular and Cellular Toxicology
Positions and Employment:
2011
Professor of Research Pathology, Department of Pathology, SBUMC, NY
2011
Adjunct Professor, Graduate Program in Radiologic Technology, Chiang Mai University, Thailand
2004-10
Associate Professor of Research Pathology, Department of Pathology, SBUMC, NY
2010-present
Adjunct Professor, Graduate Program in Applied Radiation and Isotopes, Kasetsart University, Thailand
2008-present
Adjunct Professor, Graduate Program in Applied Radiation and Isotopes, Kasetsart University, Thailand
1997-present
Guest Scientist, Biology Department, Brookhaven National Laboratory, NY
1999-present
Adjunct Professor, Graduate Program, Burapha University, Thailand
1997-2004
Assistant Professor of Research Pathology, Department of Pathology, SBUMC, NY
1994-97
Full Scientist, Medical Department, Brookhaven National Laboratory, NY
1992
Visiting Scientist, University of Bern, Switzerland
1991-94
Associate Scientist, Medical Department, Brookhaven National Laboratory, NY
1989-91
Assistant Scientist, Medical Department, Brookhaven National Laboratory, NY
1969-80
Instructor, Applied Radio-isotope Division, Faculty of Sciences, Kasetsart University, Thailand
Other Experience and Professional Memberships (selected):
2010-present
Member of the National Space Biomedical Research Institute Review Panel
2003
Member of the Review Panel for the NIH/NCI, Special Emphasis Research Programs
2007-present
The International Dose Response Society
2007-present
The Epigenetic Society
1987-present
The Environmental Mutagen Society
1990-present
The Radiation Research Society
Honors (selected):
1971-73
The Southeast Asian Research Center for Agriculture Scholarship to pursue Master degree at University of the Philippines
1977

The Columbo Plan Scholarship (sponsored by Australian Government) to attend course "The Use of Radioisotopes" at the Australian School of Nuclear Technology
1987

Doctor Edward Storrs Reynolds, Jr., Memorial Award for Best Research in Toxicology, University of TX
1989
The National Cancer Institute to attend Workshop on Somatic Cell Genetics and Molecular Biology, The Eleanor Roosevelt Institute

2008

The Highest Recognition in Science by Town of Brookhaven Annual Women's Recognition
Peer Reviewed Publications: