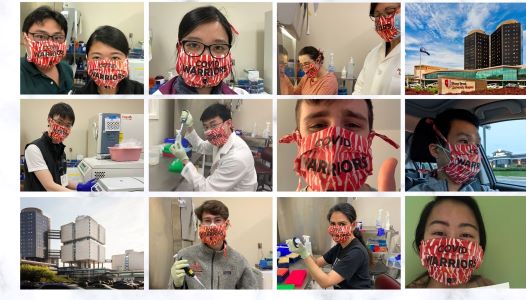 We are now about a month out since we began to ramp up efforts to provide in-house testing for SARS-Cov-2. Throughout this time, the contributions of our PhD and MSTP student volunteers have been extraordinary and I want you all to know how deeply grateful I am for all that you have accomplished.  I know that Karen Bai, Nuri Kim, John Yuen, and many others have been putting in long hours, even 7 days a week and late into the night to generate clinical data that has been invaluable to guide the clinical management of our patients.  
Thanks to your efforts, Dr. Silvia Spitzer's Molecular Pathology Lab has been able to maintain COVID-19 testing almost continuously, running a top quality service with equipment and reagents pulled together from our research labs and numerous other sources and with the help of Sarah Van Scoy (redeployed from the HLA lab), pathology residents, and 21 student volunteers! I have not heard of any other program in the country that has been able to achieve what you have done and I want you all to know that I'm extremely proud of you all.  
Although few of our patients will ever know how what you did, you should all feel secure in the knowledge that you have made an enormous difference for their healthcare. The COVID-19 assays that you have run have helped inform the clinical decisions for many of our sickest patients, including many of those that are still fighting for their lives in our ICUs.  
While the entire healthcare system of our country and the world has been mobilized to take on this great challenge, one of the most striking statistics that I've seen shows that COVID-19 is losing the battle in our community. While the national death rate is over 6% and stands at over 9% in NYC, the death rate in Suffolk County is 2.6%.  While this is still a horrendous toll, the numbers suggest that Stony Brook University Hospital is providing the best possible care for our patients and I think that this is thanks to our doctors and nurses that have served in our ED and intensive care units and also thanks to you, our Molecular Pathology volunteers!
Our COVID-19 cases are now at a peak, which I hope means that we are half way to the end of this marathon. Over the coming days and weeks, we will be continuing to develop and bring on new platforms for high throughput testing and I'm already looking forward to the time that you can all return to the research in your labs, to your clinical rotations, and to your friends and family.  
With thanks and deep appreciation for all that you have done, 

Ken Shroyer
Kenneth R. Shroyer, MD, PhD
The Marvin Kuschner Professor and Chair of Pathology
Renaissance School of Medicine
Stony Brook University