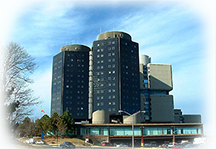 Stony Brook University Hospital (SBUH) is the University Hospital of The State University of New York at Stony Brook. Located in the East Campus of the University, the hospital is the premier academic medical center on Long Island, providing 603 beds for patient care and housing the Stony Brook University School of Medicine.
SBUH serves as the region's only tertiary care center and Level 1 Trauma Center, and is home to the Stony Brook Heart Institute, Stony Brook Cancer Center, Stony Brook Long Island Children's Hospital, Stony Brook Neurosciences Institute, and Stony Brook Digestive Disorders Institute. The SB Heart Center performs the only open-heart surgery in Suffolk and the Cancer Center and Cerebrovascular Center attract patients from throughout the region with cutting edge diagnostic and treatment facilities.
SBUH also encompasses Suffolk County's only Level 4 Regional Perinatal Center, state-designated AIDS Center, state-designated Comprehensive Psychiatric Emergency Program (CPEP), state-designated Burn Center, the Christopher Pendergast ALS Center of Excellence, and the Kidney Transplant Center, which performed the first Kidney Transplantations on Long Island. SBUH is also home of the nation's first Pediatric Multiple Sclerosis Center.
The Renaissance School of Medicine at Stony Brook University is responsible for the preclinical and clinical education of approximately 450 medical students. The School of Medicine offers excellent research and clinical opportunities and has attracted a faculty of national and international renown. There are 21 residency training programs active in the School of Medicine, comprising over 500 full-time residents. Many of these residents also provide care at other nearby hospitals, including the VA Hospital at Northport, Winthrop-University Hospital, Eastern Long Island Hospital, Peconic Bay Medical Center, and Southampton Hospital.
Located on the same campus as the Hospital and the School of Medicine are the School of Dental Medicine, the School of Health Technology and Management, the School of Nursing, and the School of Social Welfare. These four schools offer professional education to over 3,000 students and conduct programs of research, service and continuing professional education.
Stony Brook Medicine is currently undergoing an enormous growth trajectory under the leadership of a new University President, Samuel Stanley Jr., MD, a new Dean, Kenneth Kaushansky, MD, and new CEO, L. Reuven Pasternak, MD. The current transformation has been made possible by a $150 million gift to the University from the Simons Foundation. The Simons Gift is the single largest gift ever received by SUNY and the sixth largest gift provided to a public university nationally. The gift supports research excellence in the School of Medicine, outstanding faculty hires through new endowed professorships, and recruitment of top-level graduate and undergraduate students. The growth of Stony Brook Medicine also includes a $423 million expansion project from 2013 to 2016, consisting of a new Medical and Research Translation (MART) building, and a new Hospital Pavilion, including a new Stony Brook Children's Hospital.