We are excited about our educational activities. The formal educational activities consist of our weekly didactic conference, monthly grand round series, and monthly morbidity and mortality conference. Through our educational activities, we aim to provide a range of experiences that maximizes learning for all types of learners at all levels of training and balance the need for core knowledge with the need to be exposed to cutting edge material.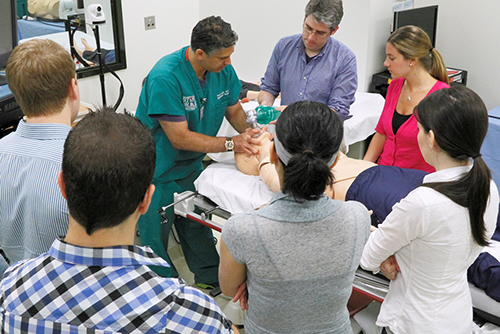 Our weekly didactic conference is conducted every Thursday from 8am to 1pm. We utilize a wide range of activities during conference. We utilize didactic lectures, small group sessions, board review quiz show, oral boards, procedure days, and simulation sessions. In addition to standard conference activities, we are constantly innovating in our curriculum with new interactive formats such as the reverse CPC, in-conference simulation debriefing, and literature debate club. Our didactic sessions are given by residents, EM and non EM faculty, as well as outside speakers. Our didactics focus on the entire range of emergency medicine from core content to cutting edge research allowing for engagement of all levels of learners.
Our grand rounds are conducted outside of conference on the first Thursday of the month. We have consistently been able to recruit amazing speakers and leaders of emergency medicine, from throughout the country and have been able to build a high quality and consistent series.
Finally our Morbidity and Mortality conference is an integral component in our residency education. It takes place directly before our grand rounds lecture on the first Thursday of the month. Our M and M conference provides a safe learning environment for the entire department. We have a large and consistent faculty presence in our M and M conference. Through the integration of the audience response systems this conference is a truly interactive experience.
We believe that our focus on constant evaluation and innovation exemplifies our commitment to resident education and training.