Senior Mentoring Team Meetings
| | |
| --- | --- |
| November 17, 2022 | Managing yourself |
| December 15, 2022 | Working successfully in a diverse environment |
| January 19, 2023 | Tools for clinical teaching – and – Resources for lab management |
| February 16, 2023 | If I knew then what I know now |
| April 20, 2023 | Promotion and tenure in the RSOM |
| May 11, 2023 | Professionalism / How to report a problem |
| June 15, 2023 | How to manage a team |
| July 20, 2023 | Guidelines for social media & consulting |
| August 17, 2023 | Mentoring / coaching / sponsoring |
| September 21, 2023 | Entrepreneurship |
| October 19, 2023 | Research IT resources |
All meetings are held via Zoom from 4-5pm. To register in advance for any session, please email faculty_affairs@stonybrookmedicine.edu.
RSOM Individual development plan template
How to use this template:
First we recommend reviewing the companion Self-Study Questions which are intended to get you thinking about your activities and goals for this next year. 
Armed with your notes from the Self-Study, complete the relevant parts of this template. Begin with your long- and short-term career goals. Then, for each of the subsequent sections, write down your next steps or S.M.A.R.T. action goals that will help you reach your overarching career goals. A S.M.A.R.T. goal is one that is: Specific, Measureable, Action-oriented, Realistic, Time-bound.  
Be sure to adapt this template to suit your work and organizational style, including:

Deleting any module that does not apply to you; and
Adjusting or renaming any columns as needed. 

For each set of activities, comment on any obstacles you see that could impact your ability to accomplish your goals for that section. 
Include plans for the next year, at which time you should review your progress and update your plans for the subsequent year. 
---
Senior Mentoring Team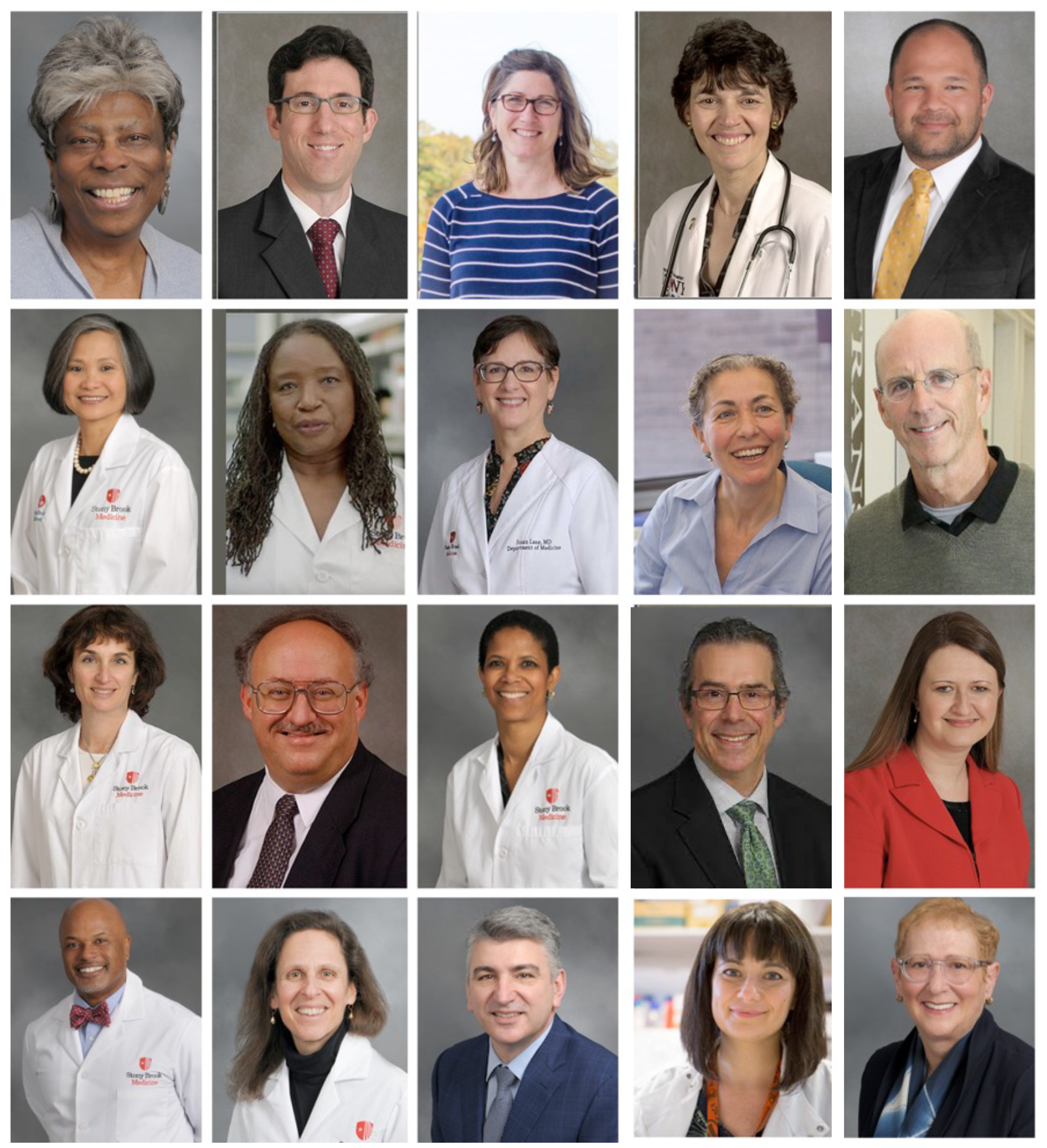 Brian Bronson, Psychiatry
Carol Carter, Microbiology & Immunology
Holly Colognato, Pharmacological Sciences
Marie Gelato, Department of Medicine
Adam Gonzalez, Department of Psychiatry
Catherine Kier, Department of Pediatrics
Susan Lane, Department of Medicine
Barbara Nemesure, Department of Family, Population & Preventive Medicine
Allison McLarty, Department of Surgery
Jedan Phillips, Family, Population and Preventive Medicine
Elinor Schoenfeld, Family, Population & Preventive Medicine
Rebecca Spiegel, Neurology
Lisa Strano-Paul, Medicine
Dada Pisconti, Biochemistry and Cell Biology
Clint Rubin, Biomedical Engineering
Apostolos Tassiopoulos, Surgery
Stella Tsirka, Pharmacological Sciences
Stephen Vitkun, Anesthesiology
William Wertheim, Medicine
Jennie Williams, Family, Population & Preventive Medicine
---
Carol Carter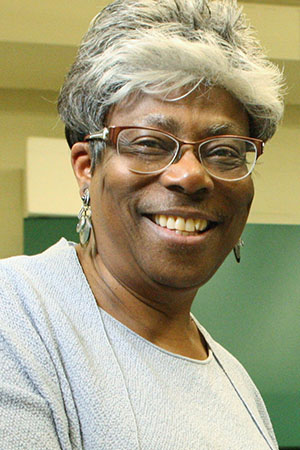 Dr. Carter joined the faculty of Stony Brook University (SBU) in the Department of Molecular Genetics & Microbiology, School of Medicine (now Department of Microbiology & Immunology, Renaissance School of Medicine, having graduated from the City College of New York (Phi Beta Kappa).  She earned her doctoral degree at Yale U and completed postdoctoral studies in virology and protein biochemistry at the Roche Institute of Molecular Biology.  At SBU, she advanced through the ranks to Professor and also became an Adjunct Professor in the Department of Physiology & Biophysics.  Dr. Carter leads a federally funded basic research program focused on the pathogenesis of the acquired immunodeficiency disease syndrome (AIDS) and other viral-induced diseases, has served on the editorial boards of journals in her field and on several federal, private and public advisory committees.  She is considered an expert in cellular protein trafficking mechanisms necessary for production of virus particles.   Aspects of her work have been exhibited in the Museum of Science & Technology and translated into issued or pending patent/licenses.  Dr. Carter was a featured speaker at the "Women in Science" workshop sponsored by the International Union of Biochemistry and Molecular Biology (Japan, 2006).  She was appointed by the Secretary of the U.S. Department of Health and Human Services to serve on the National Institute for Allergy & Infectious Diseases Advisory Council to the NIH Director (2007-2011). In 2017, she received a Long Island Innovator of the Year award for her translational research pertaining to anti-viral drug development and was invited into the SBU chapter of the National Academy of Inventors in 2020.  Dr. Carter has a history of engagement in mentoring activities:  In 2016, she was asked to join the mentoring team assembled by the Office of the SUNY Chancellor to advise tenure-track junior faculty as part of a SUNY-wide pilot initiative.  In 2018, she co-organized SBU's 1st Preparing Future Faculty mentoring workshop in conjunction with the Vice Provost for Faculty Affairs.  She is a member of several SBU Graduate and Medical Sciences Training Programs in Infectious Diseases, Cancer, and Genetics and has participated in instruction of undergraduate, graduate, medical, and dental students, including serving as Director of the Medical Microbiology Course during the period that it was offered to 2nd and then 1st year medical and dental students.   She has been twice the recipient of the "Exceptional Service to Undergraduate Education" for mentoring activities and has been recognized by both the Office of the University President and by Suffolk County, NY for her service in initiatives promoted by the university's Center for Inclusive Education.  In 2019, in collaboration with the Cold Spring Harbor Laboratory Learning Center, Dr. Carter developed a summer camp that provides high school students underrepresented in STEM with recombinant DNA and data coding skills foundational to conducting basic science research. 
---
Marie Gelato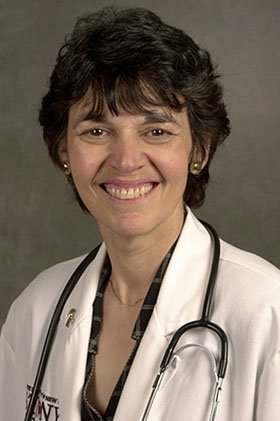 Dr. Gelato is a SUNY Distinguished Service Professor and a tenured Professor of Medicine, Division of Endocrinology at Stony Brook University. She was the Director of the Master's Program for Clinical Research and was the General Clinical Research Center Program Director for many years. She has over 30 years' experience doing investigator initiated patient oriented research. She was a member of the FDA Advisory Panel for Endocrine and Metabolic Drugs and still serves as an ad hoc member. Dr. Gelato (5/2017) was appointed to the FDA Advisory Committee for Clinical Chemistry, Toxicology and Medical Devices. She was President of the Association for Patient Oriented Research (APOR) and has served on the Board of Directors for the Association for Clinical and Translational Science. In the Department of Medicine, she is Chair of the Research Committee and oversees the Pilot Project Grant Program. In addition, she is Chair of the Promotions Committee which oversees the review of faculty promotion packages and mentors faculty to prepare their credentials for promotion.
---
Barbara Nemesure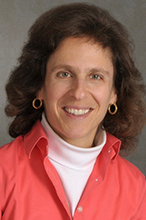 Dr. Nemesure has been a faculty member at Stony Brook Medicine for more than 27 years. She is a Professor in the Department of Family, Population and Preventive Medicine and the Division Head of Epidemiology and Biostatistics. She is also the Director of Lung Cancer Research and co-Director of the Comprehensive Lung Cancer Program at the Stony Brook Cancer Center. Dr. Nemesure has served as Principal Investigator (PI) on several major research grants awarded by the National Institutes of Health (NIH) and other agencies and have established a solid track-record of developing, implementing and directing projects related specifically to cancer over the past decade. In addition, she chairs the Affirmative Action/Equal Employment Opportunity (AA/EEO) committee and the Faculty Diversity Advisory Council (FDAC) for the School of Medicine. Dr. Nemesure also has adjunct faculty appointments in the School of Nursing, as well as the Departments of Ophthalmology and Applied Mathematics and Statistics.