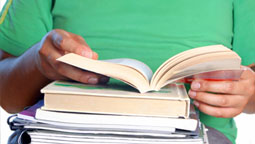 Research faculty in the Department of Pathology are participants in the Molecular and Cellular Biology Graduate Program. Pathology department courses provide the core for the specialization in Immunology and Pathology. You may visit the MCB site for a full description of the program, the participating faculty, and how to apply. Details about individual faculty and their research interests are listed on the Faculty page of the Department.

The Department of Pathology has participated in graduate education since its inception with a graduate program in Experimental Pathology that evolved into a program in Cellular and Molecular Pathology. In 1992, the Cellular and Molecular Pathology graduate program merged with the graduate program in Molecular and Cellular Biology (MCB) and became a track (Immunology and Pathology) within that parent program. Graduate students in the MCB program identify their track in their second year. Currently, there are 15 students in the Immunology and Pathology track.

The Department of Pathology offers the graduate course in Immunology, directed by Dr. Fleit. In addition to Dr. Fleit, three other Pathology faculty (Drs. Furie, Kew, and Miller), four members of the department of Molecular Genetics and Microbiology (Drs. Benach, Carpino, Reich, and van der Velden) and one member of the Department of Biochemistry and Cell Biology (Dr. Marcu) teach in this graduate course that is taken by students from the MCB program, Molecular Genetics and Microbiology, Molecular and Cellular Pharmacology, Oral Biology and Pathology, Genetics, and Physiology and Biophysics.

Graduate students in the Immunology and Pathology track also take a Pathology Journal club that is directed by Dr. R. Kew. In addition, several Pathology faculty members teach in the graduate course in Cell and Tissue Biology (MCB 656) which is a core first year course in the MCB graduate program.
Pathology faculty participate in the management of the MCB graduate program through participation in the MCB Executive Committee, Admissions Committee, Qualifying Exam committee, as well as student dissertation committees.

The Pathology department offers a course in Applied Immunology (HBP 401) taken by students in the Clinical Laboratory Sciences track in the School of Health Technology and Management. This course is directed by Dr. Marc Golightly and has an enrollment of 25 students.
Students from both the School of Nursing's graduate nursing program and the School of Health Technology and Management's graduate program for Physician's Assistants enroll in Pathobiology (HBP 511) directed by Dr. Eric Spitzer. This course enrolls 72 students.

Clinical Applications of Molecular Medicine (HPD 650): this introductory 1-credit course (co-directed by Drs. Noy Rithidech and Kenneth Shroyer) provides a broad-based overview of the clinical applications of molecular medicine, with a focus on cutting edge technologies related to the current and future clinical applications to improve early detection, to enhance diagnostic testing, to monitor treatments, and to counsel patients on their prognosis. The target audience includes graduate students, residents, fellows, and junior faculty members. As applied to clinical patient care questions, the specific molecular medicine topics discussed will include: DNA, RNA, proteomics, and chromosome assays. Pending the specific lecturers and topics coordinated, students will be introduced to a broad range of biomarkers for disease such as cancer, pulmonary/heart diseases, autism, and immune-related disease challenges.