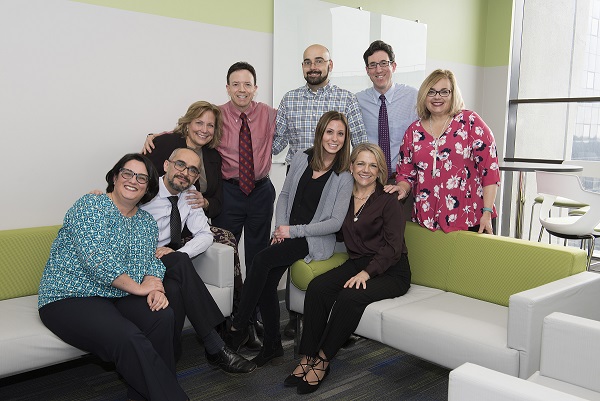 The Stony Brook University Fellowship in Consultation-Liaison Psychiatry provides its graduates with the clinical experience, skill and confidence to function as leaders of psychiatric services for medically complex patients. Stony Brook is a world-class academic medical center and regional level I trauma center. In addition to training on our active hospital Consultation-Liaison Psychiatry teaching service, fellows rotate with a number of sub-specialized inpatient and ambulatory teams, including pain medicine, palliative care, oncology, and obstetrics among others. Fellows also train in psychiatry at the interface of primary care at the Northport VA Medical Center.
Approximately 70% of the fellowship training occurs in the hospital, and the other 30% in ambulatory areas. Fellows supervise more junior trainees as well as participate in research. The fellowship is one year, offers two positions, and eligible candidates must have completed an ACGME accredited residency program in psychiatry.
Stony Brook is a university community on the scenic north shore of Long Island, which boasts beautiful parks and beaches, strong schools, and is an hour drive into Manhattan. Inquires should be directed to the Program Director at Brian.Bronson@stonybrookmedicine.edu


Stony Brook University Hospital

The Stony Brook University Hospital, located in Stony Brook, New York, is the largest academic medical center on Long Island and Suffolk County's only level I trauma center.

Curriculum

The didactic curriculum and weekly clinical case conferences provide fellows with a body of knowledge relevant to psychiatric services for medically complex patients and to the ABPN exam in Psychosomatic Medicine.

Clinical Rotations

Clinical rotations aim to provide fellows with expertise in a broad range of medical and surgical sub-specialty areas of Psychosomatic Medicine

Faculty


Fellows will work closely with faculty from a range of specializations, including Psychosomatic Medicine, Pain Medicine, Palliative Medicine, Oncology, Hospital Medicine, and Primary Care.

Resources

Fellows will have access to all the resources of a large state university and medical center as well as those provide by the Veterans Administration Medical Center. The Department of Psychiatry and Behavioral Science at Stony Brook is home to a highly sophisticated imaging center that specializes in PET and MRI imaging related to psychiatric disorders.

Application Process


Qualified applicants are invited to apply for the Stony Brook Fellowship in Psychosomatic Medicine by completing the Common Application for Psychosomatic Medicine Fellowship. Inquiries may be made to the Fellowship Director at Brian.Bronson@ stonybrookmedicine.edu or the Fellowship Program Coordinator, Ms. Angela Smith, at 631 444 3406 or Angela.Smith@ stonybrookmedicine.edu.