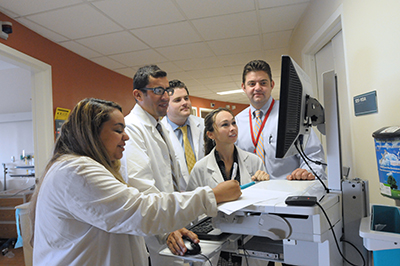 The Inpatient Consultation and Liaison Psychiatry Service is an active training service which provides fellows with expertise in clinical care, teaching and administration in Consultation and Liaison Psychiatry.
---
Palliative Care Service
Fellows in the Stony Brook Fellowship in Consultation-Liaison Psychiatry will receive an in-depth exposure to the subspecialty field of palliative medicine.
---
Primary Care Mental Health Integration is a collaborative program between Primary Care and Mental Health to address the mental health needs of the veterans within the Primary Care setting.
---
The fellowship includes a half-day clinic each week for completing outpatient psychiatric evaluations and short-term follow-up of medically complex outpatients referred from a variety of medical and surgical specialty areas.
---
The Stony Brook Medicine Program in Collaborative Care for Hospital Medicine aims to improve the management and outcomes of co-morbid psychiatric symptoms through the full integration of psychiatric services on inpatient medicine units.
---
Child and Adolescent Consultation-Liaison Psychiatry
The fellowship includes a one-month block in psychiatric consultation for pediatric populations. The fellow will respond to consultation requests from the pediatric medical and intensive care units. The fellow will work with both the children and the parents of children with a variety of medical conditions leading to hospitalization. The fellow will gain expertise in psychiatric diagnostic evaluation of medically ill children, evaluation of the family system from which these children come, and the use of both psycho-pharmacologic agents in the pediatric population as well as non-pharmacological therapies to support the child and family.
---
Elective Month
The Consultation-Liaison Psychiatry fellowship allows the fellow to design with the Program Director an elective month to pursue a clinical and/or research interest they would like more exposure to. This may include experience in various sub-specialty clinics to include the in-patient pain service and out-patient behavioral pain clinic, the various neurology clinics to include, Epilepsy, Movement Disorders, and ALS. Other elective rotations may include the Bariatric and Metabolic Weight Loss Center, and Left Ventricular Assist Device Program, among others. In addition, the fellow will attend the interdisciplinary team meetings of these programs to discuss patients and to enhance their skills in working as part of an sub-specialty integrated team.
---
Consultation-Liaison Psychology Service
Fellows will participate in a cognitive behavioral therapy (CBT) rotation on the C-L Psychology service, with exposure to third wave CBT modalities including mindfulness, Acceptance and Commitment Therapy (ACT) and Dialectical Behavioral Therapy (DBT). This rotation will focus on diagnostic evaluation using a CBT based case formulation approach and brief psychotherapy for medically hospitalized patients. There are opportunities to carry a short term outpatient CBT case, based on the fellow's interests. Through this rotation, the fellow will be able to understand and apply biopsychosocial theory where the fellow can incorporate biological, genetic, medical, individual, personality, situational, and environmental factors in their care formulations. The fellow will learn how to implement guided discovery, Socratic questioning, reflective listening and summarizing. The fellow will become proficient in developing a collaborative-empirical approach to a therapeutic alliance. There will be ample opportunity to practice the components of CBT by discoing patient's automatic thoughts, implementing behavioral strategies such as behavioral activation, pleasant activities, relaxation, distraction and applying evidence based cognitive behavioral therapies.
---
Neurology Consultation Service
Fellows complete a one-month rotation on the Stony Brook University Neurology consultation service, aimed to strengthen their skills in neurological assessment and differential diagnoses. Common clinical problems fellows encounter include delirium, suspected seizures, headaches, new onset focal weakness or sensory loss, dementia, and other chronic neurological illnesses such as Parkinson's disease and multiple sclerosis. Through exposure to this diverse patient population with a vast array of neurological disorders, fellows will sharpen their clinical skills in neurological examination, neuroanatomical localization, cognitive assessment and the interpretation of neuroimaging.
---
Liaison to the Renal Transplant Service
Fellows will have the opportunity to collaborate closely with the Kidney Transplantation Service at Stony Brook, which is in the top 20% of programs nationally by patient volume. Fellows will perform outpatient evaluations of patients seeking living and deceased kidney transplants in addition to screenings of individuals seeking to provide altruistic kidney donation. The fellow will participate in monthly meetings with the kidney transplant team to discuss any potential barriers for patient listing and ways to maximize a patient's candidacy for transplantation. Fellows will learn how to assess and provide recommendations for caring for patients with a variety of pathologies including affective disorders, psychosis, substance abuse, cognitive disorders, personality disorders, and non adherence in this medically complex population.
---
Consultation for Outpatient OBGYN Services
Fellows will have an elective opportunity to rotate in the outpatient Obstetrics and Gynecology clinics at Stony Brook University. This rotation is aimed at enhancing proficiency in assessment of the peripartum population. Fellows will gain experience in managing a wide array of conditions such as postpartum depression, peripartum OCD and anxiety, substance use disorders, and other mental health issues related to pregnancy. The fellow will gain comprehensive knowledge about managing the peripartum population through psychopharmacological approaches, psychotherapeutic resources and will enhance their skills in treating patients through inter professional collaboration with the OBGYN team.