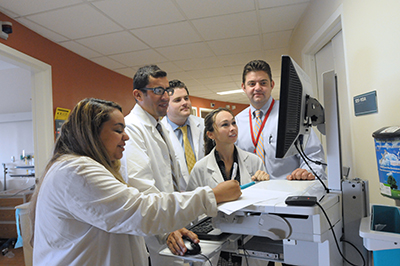 Consultation and Liaison Service
The Inpatient Consultation and Liaison Psychiatry Service is an active training service which provides fellows with expertise in clinical care, teaching and administration in Consultation and Liaison Psychiatry.
---
Palliative Care Service
Fellows in the Stony Brook Fellowship in Psychosomatic Medicine will receive an in-depth exposure to the subspecialty field of palliative medicine.
---
Primary Care Mental Health Integration
Primary Care Mental Health Integration is a collaborative program between Primary Care and Mental Health to address the mental health needs of the veterans within the Primary Care setting.
---
Consultation-Liaison Fellows Clinic
The fellowship includes a half-day clinic each week for completing outpatient psychiatric evaluations and short-term follow-up of medically complex outpatients referred from a variety of medical and surgical specialty areas.
---
Hospital Medicine Integrated Care
The Stony Brook Medicine Program in Collaborative Care for Hospital Medicine aims to improve the management and outcomes of co-morbid psychiatric symptoms through the full integration of psychiatric services on inpatient medicine units.
---
Child and Adolescent Medicine
The Psychosomatic Medicine fellowship includes a one-month block in psychiatric consultation for pediatric populations. The fellow will respond to consultation requests from the pediatric medical and intensive care units. The fellow will work with both the children and the parents of children with a variety of medical conditions leading to hospitalization. The fellow will gain expertise in psychiatric diagnostic evaluation of medically ill children, evaluation of the family system from which these children come, and the use of both psycho-pharmacologic agents in the pediatric population as well as non-pharmacological therapies to support the child and family.
---
Elective Month
The Consultation-Liaison Psychiatry fellowship allows the fellow to design with the Program Director an elective month to pursue a clinical and/or research interest they would like more exposure to. This may include experience in various sub-specialty clinics to include the in-patient pain service and out-patient behavioral pain clinic, the various neurology clinics to include, Epilepsy, Movement Disorders, and ALS. Other elective rotations may include the Bariatric and Metabolic Weight Loss Center, and Left Ventricular Assist Device Program, among others. In addition, the fellow will attend the interdisciplinary team meetings of these programs to discuss patients and to enhance their skills in working as part of an sub-specialty integrated team.
---