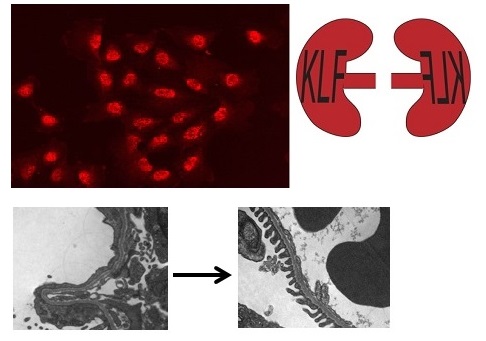 Our research program focuses on investigating the molecular mechanisms involved in the development and progression of chronic kidney disease.
We have found evidence that a highly specialized family of transcription factors, Krüppel-Like Factors (KLFs), are critically involved in regulating fundamental cellular processes in the kidney:
Cell differentiation and proliferation

Cell metabolism
Targeted Research Areas of Focus:


Harnessing novel in vitro and in vivo approaches to establish the physiological and pathophysiological functions of KLFs in various disease processes (Diabetic Kidney Disease, Focal Segmental Glomerulosclerosis, Acute Kidney Injury transition to Kidney Fibrosis)
Utilizing high-throughput screening strategies to identify small molecular compounds that might serve as novel therapeutic agents in disease based on their ability to modulate the expression and function of KLFs
Garnering our knowledge of regulators of gene expression, we are developing a combinatorial approach to building a platform for kidney regeneration.
These studies are supported with extramural funding from NIH/NIDDK, American Heart Association, Veterans Affairs, and Dialysis Clinic Inc.
At Stony Brook Medicine, we continue many of these exciting studies and welcome any collaborative efforts.
---