Association and Prognostic Significance of Pericardial Effusions in Patients with End-Stage Renal Disease on Hemodialysis
The goals of this study are to investigate the prevalence and prognostic implications, including symptomatic pericardial disease and early mortality, of pericardial effusions, as measured by echocardiography, in patients with end-stage renal disease (ESRD) on hemodialysis.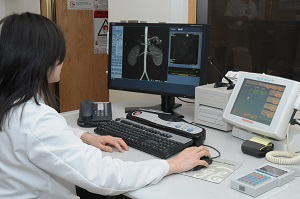 Biomarkers for cardiovascular disease progression in patients with chronic kidney disease
The goals of this study are to investigate the rate of progression of cardiac fibrosis, diastolic dysfunction, and vascular stiffness in patients from pre-dialysis to 1 year after initiation of dialysis, as well as to identify key biomarkers that may be able to predict the development and progression of cardiac fibrosis and eventual heart failure.
Patients are recruited from Dialysis Clinic Inc. and Stony Brook Nephrology Outpatient clinic at 26 Research Way. Patients must have CKD Stage 5 and/or approaching dialysis to be eligible for the study. Each study participant visits St. Francis Hospital for a cardiac MRI 3 times over the course of a year. Blood is collected around the time of each MRI to investigate for potential biomarkers. Clinical data such as blood pressure, hematocrit, myocardial mass, ejection fraction, and more are recorded for each patient at each MRI visit. This enables the researchers to track the progress of the patient over the year.

Kidney Biopsy Biobank
The Biobank is a research collaboration between Stony Brook Nephrology and Pathology Departments.
Each patient undergoing a biopsy (native or transplant) procedure is eligible for the study. Patients are consented prior to their procedure and blood and urine samples are collected. Remaining samples of the biopsy (post-procedure) that are not used for diagnostic purposes are stored in the biobank. There are over 500 specimens collected since 2014.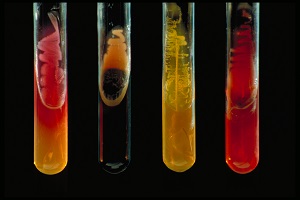 Hospital readmissions in patients with kidney disease
The goal is to identify the modifiable and non-modifiable risk factors associated with increased readmission rate in patients with ESRD.
ESRD patients at Stony Brook University Hospital from 2010 to 2014 were identified with the following ICD 9 codes: ESRD, ESRD on hemodialysis and ESRD on peritoneal dialysis. The incidence and prevalence of 30 day readmissions in the ESRD patients were determined. The percentage of 30 day readmissions in ESRD patients (per patient and total 30 day readmissions) that are dialysis related versus non-related was calculated. The rate of 30 day readmission rate in ESRD patients with heart failure to those without heart failure is being compared. The cost of readmission visits for ESRD related visits to non-ESRD related visits is also being compared.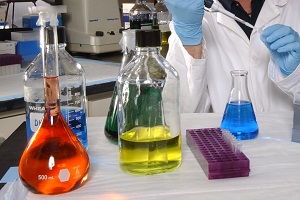 Mechanisms in the progression of diabetic kidney disease
The goal is to identify key molecules in serum and urine that might cause the development and progression of diabetic kidney disease.
Patients with Diabetes (Type 1 & 2) were recruited at Stony Brook Endocrinology Outpatient Clinic at 26 Research Way and blood and urine samples were collected to identify markers that might predict the progression and/or development of diabetic kidney disease using cell-based functional assays and proteomics.