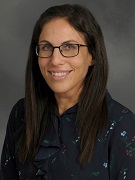 Chelsea Estrada DO
Assistant Professor of Medicine
Stony Brook University School of Medicine
Email: Chelsea.Estrada@stonybrookmedicine.edu
Ongoing research projects include:
Mechanisms of Renal Endothelial Cell Injury in Antibody Mediated Rejection after Kidney Transplantation.
Glomerular Epithelial Cell Cross-talk in Kidney Disease.
Project 1: Mechanisms of Renal Endothelial Cell Injury in Antibody Mediated RejectionFor patients with end stage renal disease, maintaining life sustaining measures such as renal transplantation is essential. Antibody mediated rejection, the primary cause for late kidney transplant failure and return to dialysis is lacking in diagnostic and therapeutic techniques. The current project, understanding the role of Krüppel- like factor (KLF4), an important transcriptional regulator of anti-inflammatory endothelial function, in antibody mediated rejection, is critical for understanding the molecular mechanism of endothelial injury and the development of novel diagnostic and treatment strategies. This project uses both molecular and translational techniques, in conjunction with our close to 400 unique patient samples banked in the Stony Brook Medicine Biobank (https://medicine.stonybrookmedicine.edu/pathology/biobank).
Funding: NIDDK https://projectreporter.nih.gov/reporter_searchresults.cfm
Project 2: Glomerular Epithelial Cell Hyperplasia and Cell Cross-talk in Kidney Disease.
Pathologic glomerular epithelial cell hyperplasia is characteristic of both rapidly progressive glomerulonephritis and subtypes of focal segmental glomerulosclerosis. Although initial podocyte injury is common across both diseases, mechanism(s) regulating this process are largely unknown. Using a combined approach with both RNA sequencing and Liquid Chromatography Mass Spectrometry-Based Proteomics, the goal of this project is to elucidate novel signaling pathways between visceral and parietal glomerular epithelial cells that contribute to glomerular disease.
Funding: Paul Teschan Research Fund http://www.dciinc.org/stony-brook