"There are lots of resources here for wellness. I feel as though they're always here to support us. They always give us enough time off. They're always looking to making sure that we never go over our hours. And it is always easy to reach out if you're feeling exhausted."
— Elizabeth Watson, Pain Management Fellow
Wellness at Stony Brook goes far beyond the care we provide to our patients. We know that residency and fellowship training, while fulfilling, can also put a strain on one's physical, emotional and financial wellbeing. To support your needs, there are many resources in place to help with the daily demands of being a physician at Stony Brook.
Fatigue Mitigation Transportation Reimbursement for Trainees
We offer reimbursement for the transportation costs of fatigued residents so they can reach home safely after work and return to the training site. For more details and reimbursement forms click here.
Wellness Events
Throughout the year GME hosts a variety of special events designed to create camaraderie and support your well-being. Past events have included:
Puppy Socials
Resident Bowling Tournaments
Wellness Fairs
Paint Nights
Financial Planning Seminars
Resident Appreciation Week
Welcome Residents and Fellows BBQ
Wellness Committee
Resident/Fellow Wellness Committee meetings are held on the 2nd Friday of each month at 2pm on Microsoft Teams. If you are interested in joining the committee, please contact the GME Office.
Quick Wellness Links
988 Suicide and Crisis Lifeline - 988 has been designated as the new three-digit dialing code that will route callers to the National Suicide Prevention Lifeline (now known as the 988 Suicide & Crisis Lifeline), and is now active across the United States.
Well Being Index - Twice a year all residents and fellows are encouraged to complete an online self- administered anonymous survey to help identify burnout and depression. Includes useful links and references for those who need additional support.
New Innovations – An easy-to-use platform that allows you to log and view work hours and procedures, view schedules, complete conference surveys and more.
Meal Credits - Residents and fellows working at Stony Brook University Hospital each receive a set of meal credits, which are loaded onto their ID badges to account for meals at our on-site cafeteria.
Call Rooms - quiet places for trainees to rest and sleep within the hospital
Employee Assistance Program - A confidential place to discuss options for managing any personal or workplace issue. Includes connections to mental health resources, financial resources, Hardship Fund, child care resources, addiction resources, domestic violence and suicide prevention resources, and more.
Free and Confidential Counseling - provided by Marsha Tanenberg-Karant, MD and Phil Pecoraro, MD and available to all residents and fellows of Stony Brook University Hospital.
SUNY Perks - Group discounts and offers from a variety of vendors, merchants and providers.
Healthier U - Stony Brook University-wide wellness initiative offering a wide range of health-focused events and programs to our employees.
Ombudsman Office - A safe place to voice your concerns and explore options for productive conflict management and resolution.
The Walter J. Hawrys Recreation and Wellness Center – our modern recreation and wellness facility offering a multitude of sports and fitness options (Due to COVID-19 the center is closed until further notice).
Life on Long Island
For many residents and fellows, just living and working on Long Island imparts a sense of wellness. The longest and largest island in the contiguous United States, Long Island offers residents access to a wonderful lifestyle with its beautiful beaches, pristine hiking trails, beautiful parks, renowned wineries and wonderful restaurants in charming towns found from end to end of its 118-mile expanse. You can head west to reach New York City in just over an hour, or go the same distance in the other direction to get to the tip where the parks, ocean views and famous lighthouse of beautiful Montauk await.
For those raising a family, Long Island is also known for its friendly communities, cultural and historic institutions, and numerous family attractions including the Long Island Aquarium, children's museums, water and amusement parks, animal farms, petting zoos and more. Long Island is also home to many excellent public and private schools.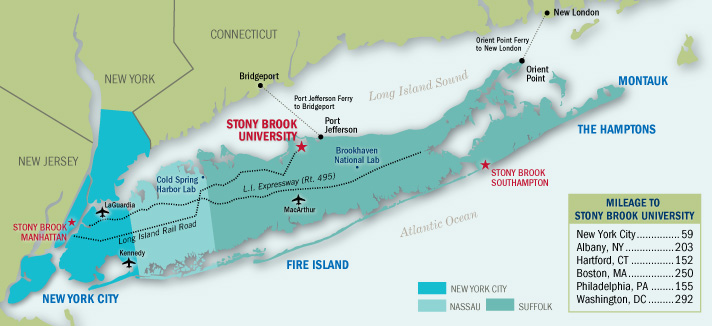 To explore what Long Island and New York City have to offer socially, culturally and recreationally, visit Beyond the Brook.
Get Involved
Your input is valued and welcome. By joining committees, you get an insider's perspective on different areas and initiatives of the hospital, and can participate in decision making that helps to guide hospital policy. Current residents and fellows are invited to take part in any of these committees. To see the full committee list, click here.