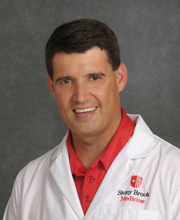 Welcome to the Department of Orthopaedics at Stony Brook Medicine. I think you will find Stony Brook to be a very exciting place. Our department continues to grow along with the hospital and our sister institutions (Stony Brook Southampton Hospital, the VA Medical Center at Northport, and Memorial Sloan-Kettering Cancer Center in New York City). Improvements are continually made at the institutional and departmental level to expand our resources, add new facilities, and bring new faculty and opportunities throughout. What has not changed is the fact that our residents are a great group of men and women from all across the country, the North Shore of Long Island is a wonderful place to live, and Stony Brook and our sister institutions continue to excel. Residents are the heart and soul of our department and at the center of our mission. I hope you will consider becoming part of our team.
I look forward to meeting you.
Jim Penna, MD
Professor and Interim Chair
Residency Program Director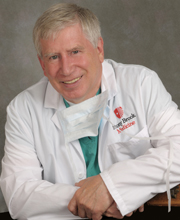 It is an exciting time to become an orthopaedic surgeon. New technologies in Orthopaedic Surgery continue to improve our ability to surgically treat patients, educate our residents, and open exciting new areas in Orthopaedic research.
At Stony Brook, we aspire to meet the goals and challenges of our medical center's slogan – Home of the Best Ideas in Medicine. Stony Brook Medicine is a strong and growing enterprise. Our new Pediatric Hospital and new Research Tower recently opened in 2019. Our rich tradition of providing excellent care is manifested in our nationally-acclaimed patient satisfaction scores, and our energetic, committed Orthopaedic faculty attend to the patient population at the highest level in all aspects of the diverse field. The privilege of educating future Orthopaedic surgeons has led to tremendous achievements in our residency program, including national recognition for scholastic achievements like the 2016 AAOS Richard Brand Award. Our faculty and residents alike are continually engaged in continuing education, new teaching concepts like our PGY-1 Surgical Skills Module, and novel research in our ever-changing field. And as our institution expands, so too does our Orthopaedic Surgery department, providing opportunities for our residents through educational resources, outstanding rotation experiences, and preparation for a career on the path of their choosing.
I am pleased you are interested in the Orthopaedic Surgery Program at Stony Brook Medicine. We are proud of the tradition we have established in patient care and education, and look forward to introducing you to all we have to offer.
Lawrence Hurst, MD
Professor and Vice Chair
Department of Orthopaedic Surgery
To learn more about why you should choose Stony Brook for your residency, please watch the video below or
click here to go to the Stony Brook GME website.