Dear Medical Student,
Thank you for visiting the Orthopaedic Surgery Department at Stony Brook University. We are happy that you have chosen to rotate with us on the service.
You will be expected to fulfill many obligations on this rotation, but your diligence will pay off as the residents and attendings allow you to increasingly participate in procedures and surgeries and get to know you personally and professionally.
As an upcoming Orthopaedic Surgeon, your knowledge base for the rotation should include anatomy relevant to surgical approaches, Orthopaedic injuries, and basic concepts for evaluation and treatment.
We as a department also hold several functions on a regular basis, including hosted Journal Clubs and social events. You are invited and welcome to join at your leisure.
Please browse our website for relevant information regarding the program, and contact us if you have any questions.
We look forward to having you here at Stony Brook University.
Sincerely,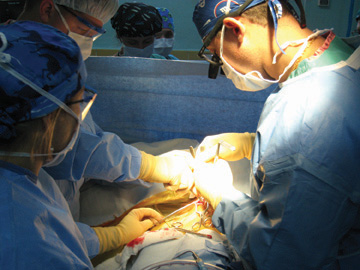 Department of Orthopaedic Surgery
Stony Brook University Hospital