Board Certifications
Education
Medical School
Columbia University (1988)
Residency Training
General Surgery, Columbia-Presbyterian Medical Center
Fellowship Training
Cardiothoracic Surgery, Mayo Clinic, Rochester, MN
Affiliated Specialty Centers
Clinical Interests/Expertise
Acute Myocardial Infarction

Aortic Surgery

Bypass Surgery (CABG)

Congestive Heart Failure

Coronary Artery Disease

Endovascular Aortic Surgery

Lung Cancer

Thoracic Surgery

Valve Surgery

Valvular Heart Disease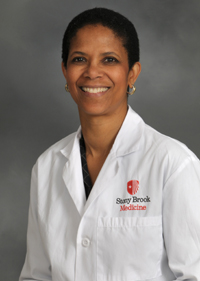 Contact Information
Division of Cardiothoracic Surgery
Department of Surgery, Health Sciences Center T19-080
Stony Brook Medicine
Stony Brook, NY 11794-8191
Tel: 631-444-1820
Fax: 631-444-8963
For patient care information, including insurance participation and practice locations, click here.
Personal Statement
Honors
Publications
Additional
I care for patients with all forms of heart disease who require surgery, as well as for patients with chest disease, including lung cancer. My special interests are in aortic surgery, including the use of minimally invasive endovascular stenting for thoracic aortic aneurysms. I also use leading-edge technology to treat severe heart failure, including the new permanent ventricular assist device (VAD) that provides "destination therapy." Our VAD program, which I co-direct, was the first program on Long Island to achieve national certification. I know how to address the unique cardiac needs of women, and am active in the Women's Heart Program. I am also on the team of the Lung Cancer Evaluation Center that uses the multidisciplinary approach to provide the best possible care.
Selected for inclusion in Guide to America's Top Surgeons published by the Consumers' Research Council of America
Recipient of Outstanding Teacher Award presented by general surgery residents (2014)
Recipient of Town of Brookhaven's Women's Recognition Award for Medicine (2011; see video)
Village Times Herald's 2002 "Woman of the Year in Health"
Bilfinger TV, Seifert FC, Giron F, McLarty AJ, Krukenkamp IB, Saltman AE, Ricotta JJ. Can the added risk of stroke from combined coronary artery bypass grafting and carotid endarterectomy be predicted? Ann Thorac Surg 2002;73:S377.
Char D, Cuadra S, Ricotta J, Bilfinger T, Giron F, McLarty A, Krukenkamp I, Saltman A, Seifert F. Combined coronary artery bypass and carotid endarterectomy: long-term results. Cardiovasc Surg 2002;10:111-5.
Chiu WC, Alemu Y, McLarty AJ, Einav S, Slepian MJ, Bluestein D. Ventricular assist device implantation configurations impact overall mechanical circulatory support system thrombogenic potential. ASAIO J 2017;63:285-92.
Essani R, Scriven RJ, McLarty AJ, Merriam LT, Ahn H, Bergamaschi R. Simulated laparoscopic sigmoidectomy training: responsiveness of surgery residents. Dis Colon Rectum 2009;52:1956-61.
Farkouh ME, Domanski M, Sleeper LA, et al.; FREEDOM Trial Investigators [member, McLarty AJ]. Strategies for multivessel revascularization in patients with diabetes. N Engl J Med 2012;367:2375-84.
Forde KA, McLarty AJ, Tsai J, Ghalili K, Delany HM. Murphy's Button revisited. Clinical experience with the biofragmentable anastomotic ring. Ann Surg 1993;217:78-81.
Larcos G, McLarty AJ, McGregor CG, Brown ML, Hung JC, O'Connor MK, Tazelaar HD. Evaluation of 99Tcm nonspecific polyclonal IgG in the detection of rejection in a single lung transplant canine model. Nucl Med Commun 1993;14:64-9.
McLarty A. Mechanical circulatory support and the role of LVADs in heart failure therapy. Clin Med Insights Cardiol 2015;9(Suppl 2):1-5.
McLarty AJ, Bishawi M, Yelika SB, Shroyer AL, Romeiser J. Surveillance of moderate-size aneurysms of the thoracic aorta. J Cardiothorac Surg 2015;10:17.
McLarty AJ, Deschamps C, Trastek VF, Allen MS, Pairolero PC, Harmsen WS. Esophageal resection for cancer of the esophagus: long-term function and quality of life. Ann Thorac Surg 1997;63:1568-72.
McLarty A, Mann N, Lawson WE, Foster A. Womens heart health series: a mini-symposium. Med Sci Monit 2003;9:RA102-9.
McLarty AJ, McGregor CG, Miller VM. Endothelium-derived factors modulate contraction of bronchial smooth muscle. Am J Physiol 1993;264(5 Pt 2):R999-R1003.
McLarty AJ, McGregor CG, Shu NH, Miller VM, Ritman EL. Impact of acute pulmonary rejection on cardiac function. Circulation 1995;91:186-91.
McLarty AJ, Miller VM, Tazelaar HD, McGregor CG. Bronchial contractions in transplanted lungs: Influence of denervation, acute rejection, and the bronchial epithelium. J Thorac Cardiovasc Surg 1993;106:797-804.
McLarty AJ, Phillips MR, Holmes DR, Schaff HV. Aortocoronary bypass grafting with expanded polytetrafluoroethylene - 12-year patency. Ann Thorac Surg 1998;65:1442-44.
McLarty AJ, Woodford E, Seifert F, Bilfinger TV, Saltman AE, Krukenkamp IB. Indomethacin in OPCAB reduces postoperative AFIB [abstract.] J Am Coll Cardiol 2001;37(Suppl 2):A310.
Ricotta JJ, Char DJ, Cuadra SA, Bilfinger TV, Wall LP, Giron F, Krukenkamp IB, Seifert FC, McLarty AJ, Saltman AE, Komaroff E. Modeling stroke risk after coronary artery bypass and combined coronary artery bypass and carotid endarterectomy. Stroke 2003;34:1212-7.
Saeed O, Jermyn R, Kargoli F, Madan S, Mannem S, Gunda S, Nucci C, Farooqui S, Hassan S, McLarty A, Bloom M, Zolty R, Shin J, D'Alessandro D, Goldstein DJ, Patel SR. Blood pressure and adverse events during continuous flow left ventricular assist device support. Circ Heart Fail 2015;8:551-6.
Salhab K, McLarty A. Idiopathic pulmonary artery aneurysm. Thorac Cardiovasc Surg 2007;55:329-31.
Szema A, McLarty A, Skopicki H, Bloom M, Jermyn R. Heart failure: an exploration of recent advances in research and treatment (A). Clin Med Insights Cardiol 2015;9(Suppl 2):53-6.
Taira BR, Jahnes K, Singer AJ, McLarty AJ. Does reported funding differ by gender in the surgical literature? Ann Surg 2008;247:1069-73.
Fellow, American College of Surgeons (FACS)