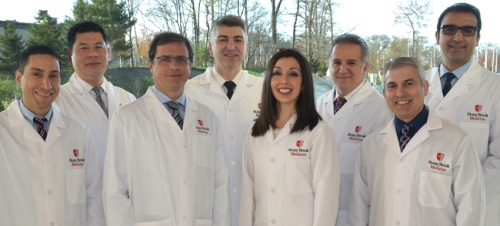 Our vascular faculty: (left to right) Drs. Nicholas Sikalas, Shang A. Loh, David S. Landau, Apostolos K. Tassiopoulos, Angela A. Kokkosis, Antonios P. Gasparis, Nicos Labropoulos, and Mohsen Bannazadeh (click on photo to enlarge). (Not pictured is George J. Koullias.)
The Division of Vascular and Endovascular Surgery comprises our clinical faculty of nine vascular surgeons, who work closely with our non-invasive vascular technology specialist, and two podiatric surgeons, together with their clinical and administrative support staff dedicated to our mission of excellence in the care of patients with vascular disorders; the education of medical students and surgical residents in the art of vascular surgery; the performance of basic and translational research aimed at advancing the management of vascular disease; and community service, such as free vascular screenings
The Division's vascular surgeons have been recognized for their clinical excellence by selection for inclusion in the Castle Connolly Guide, Top Doctors: New York Metro Area, representing the top 10% of physicians in the New York Metropolitan area. In addition, they have been selected for inclusion in the Consumers' Research Council of America Guide to America's Top Surgeons.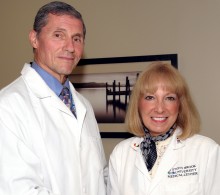 Our podiatric faculty: Drs. Bernard F. Martin
and Valerie A. Brunetti.
The Division provides our podiatric surgery service whose specialists work closely with our vascular team in the comprehensive management of chronic wounds associated with diabetes. They also provide a full range of other podiatric services.
The Division — in collaboration with Departments of Radiology and of Neurology — provides diagnosis and treatment of vascular disease ranging from routine to highly complex cases, and offers a full complement of services for patients with vascular disease.
In addition to playing an important role in the education of our medical students and general surgery residents, the Division offers a five-year vascular surgery residency, as well as a traditional two-year residency (fellowship), both of which are fully accredited by the Accreditation Council for Graduate Medical Education.
Leaders in the Division run the annual Venous Symposium held in New York. The three-day symposium, which brings together national and international experts in the field, offers a comprehensive educational opportunity for those who treat or want to be involved in the diagnosis and treatment of venous disease.
With regard to research, the Division provides patients with the opportunity to participate in clinical trials that offer them the only local access to newly developed treatment options. Our vascular specialists have been selected to participate in national studies on stroke prevention, based on their excellent surgical results. Basic science research is done, as well, with the ultimate aim of improving patient care.
Together, the clinical and academic strengths of the Division of Vascular and Endovascular Surgery form the foundation of our continued success in achieving the excellence expected of us in our diverse programs of patient care, education, research, and community service.
Vein specialist Dr. Steve Elias speaks with Dr. Angela A. Kokkosis and Dr. Pamela S. Kim, both members of our Vascular and Endovascular Surgery Division, to see what younger members of the vein community have to say about the ever-evolving world of veins.