"The Health Sciences Center at Stony Brook was conceived as an early and essential step in meeting the need for comprehensive healthcare [in New York State]." — Edmund D. Pellegrino, MD (read more)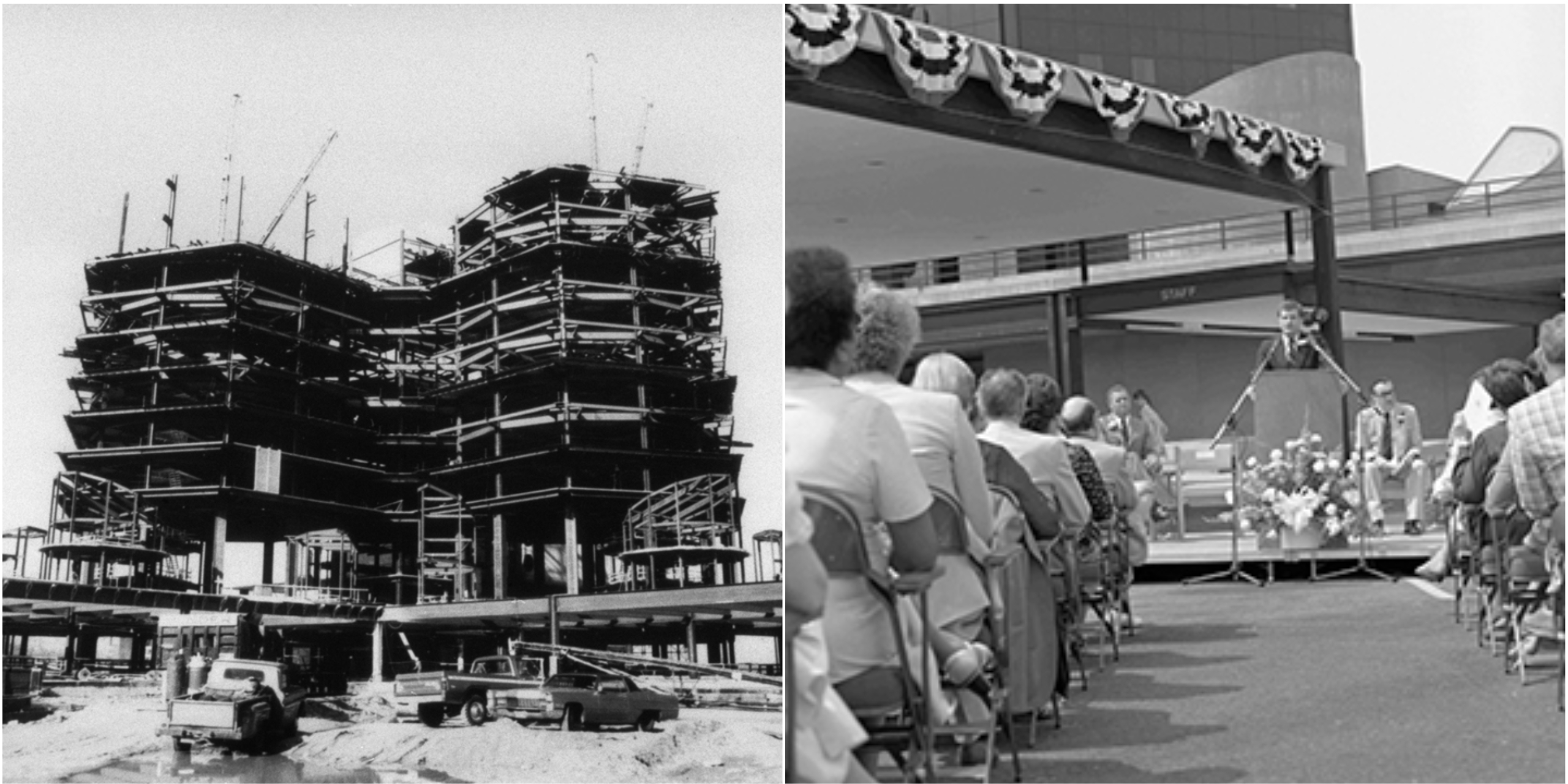 University Hospital under construction in the late 1970s and the formal dedication ceremony in 1981
The Stony Brook University Department of Surgery was founded in 1974 following the opening of the university's School of Medicine, in 1971, under the visionary leadership of Edmund D. Pellegrino, MD, the first dean of medicine and first vice president of health sciences at Stony Brook (read more).
The founding chairman of surgery was Harry S. Soroff, MD, who assembled the original faculty and defined the leadership role and dynamic character of the department. Dr. Soroff had been recruited to build it, in 1973, by the second dean of medicine, Marvin Kuschner, MD.
Dr. Soroff came to Stony Brook from Tufts University, where he was professor of surgery and chief of surgery at Boston City Hospital, and where he also served as director of surgical research and co-director of one of the first clinical research centers established and funded by the National Institutes of Health.
Early in 1974, Dr. Soroff recruited distinguished professor Clarence Dennis, MD, PhD — famous for inventing the heart-lung machine and pioneering open heart surgery, as well as for building the surgery department at SUNY Downstate — to join the faculty and help build our department. Dr. Dennis arrived in 1975.
During the first several years of the department's development, prior to the opening of University Hospital in 1980, the Northport VA Medical Center was used as our primary clinical site with its newly opened medical-surgical facility of 440 beds.
Since then, the department's continued and steady growth has demonstrated its commitment to Stony Brook Medicine's four-fold mission of excellence in patient care, education, research, and community service.
The Talamini Years (2013-2021)
The Rosengart Years (2009-2012)
The Ricotta Years (1997-2008)
The Abumrad Years (1992-1996)
The Soroff Years (1974-1989)
"What of the future? Will the name of Stony Brook be associated with excellence and innovation? … Will our faculty be at the forefront of surgical progress? As founders, it is our responsibility to set the standards and hold a steady course which ensures that the spirit of scientific inquiry be nurtured and honored, not only as a suitable, but as an indispensable attribute of an academic surgeon. For only in this manner will we continue to maintain and enhance a fresh and modern approach to our clinical and teaching activities and develop ourselves into the superlative group we have the capacity of becoming." — Harry S. Soroff, MD, "Preface," Selected Published Works of the Surgical Faculty (1982)