Surgical Training and Curriculum
Our Surgical Skills lab provides a leading-edge skills training experience for our surgery residents and medical students. The lab resides in close proximity to the clinical care areas, providing an easily accessed (24/7) and ideal location for perfecting surgical skills.
Our curriculum is designed to focus on the development of surgical and clinical skills early on in the training process, while the emphasis at senior levels of training is on surgical skill refinement as well as development of leadership skills, professionalism, effective communication, and understanding of systems based practice to prepare graduates for the next phase of their careers.
Currently available training modules are directed at fundamental skills needed for surgical competency and independence in order to comfortably complete the American Board of Surgery graduation requirements that include the Fundamentals of Laparoscopic Surgery (FLS), Fundamentals of Endoscopic Surgery (FES), Advanced Cardiovascular Life Support (ACLS), and Advanced Trauma Life Support (ATLS).
The surgical skills training curriculum focuses from basic open skills (knot tying, suturing, intravenous access, central line and chest tube insertion) and fundamental laparoscopic skills (camera navigation, controlled cutting, transfer drills, laparoscopic suturing) to advanced open surgical skills (inguinal hernia anatomy and repair, sutured and stapled intestinal anastomosis, vascular anastomosis) robotic skills and advanced patient care skills (advanced trauma and cardiac life support, various surgical clinical care scenarios).
With the growing utilization of robotic technology in surgery, a console and simulator will also be available to develop and hone robotic skills through simulation drills as well as practice using robotic biotissue.
Residents are provided with protected time each Wednesday morning with emphasis on both medical knowledge as well as skills training.
Surgical attending faculty and staff with experience in surgical simulation education are available for guidance with training modules and skills development.

---
Cardiac Sim Lab
In 2019, a comprehensive simulation lab program in cardiac surgery for the general surgery residents was established. Our cardiac surgeons will help residents to perform cardiac surgery procedures in the simulation lab (pig lab).
The cardiac sim lab has a programmatic outlook on different dates for each of the most common cardiac procedures. Each session will be proctored by the faculty expert in the procedure.
Resident performing simulated placement of anchors in endovascular repair of complex aortic aneurysm.
Cardiac Surgery Sim Lab Program
Date
Apr. 18, 2019
Jul. 18, 2019
Aug. 15, 2019
Oct. 17, 2019
Dec. 19, 2019
Feb. 21, 2020
Procedure
CABG
Aortic valve replacement
Mitral valve repair and replacement
LVAD and heart failure surgery
TAVR
Surgery for the aorta
Lead Proctor
Dr. Balaguer
Dr. Tannous
Dr. Chikwe
Dr. McLarty
Dr. Tannous
TBA
___________________________
2-hour sessions > 4 tissue lab work stations > Please complete survey before leaving
In addition, we are working to develop a boot-camp training session for residents to learn anastomosis in pig heart with evaluations of their progress according to their practice.
The surgical skills lab has not only emerged as a training tool with enormous potential for teaching and learning, but also provides an avenue for scholarly output focused on surgical education. (eg, "Simulated Laparoscopic Sigmoidectomy Training: Responsiveness of Surgery Residents").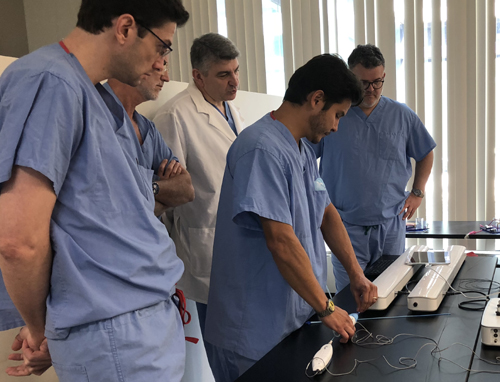 Resident performing simulated placement of anchors in endovascular repair of complex aortic aneurysm.