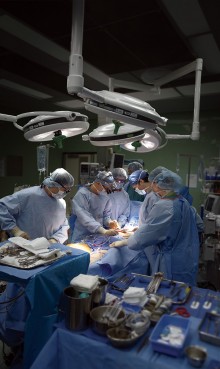 Stony Brook's surgical residency, established in 1974, is a fully approved five-year postgraduate training program, which has been designed to offer residents a broad range of experience in general surgery, as well as in the surgical subspecialties. The general emphasis of the program is to provide residents with an educational experience that will prepare them for a productive and satisfying career in surgery.
Since the career goals of individual residents may differ, it is the goal of our residency training to provide a broad base of surgical education from which a career as a community practitioner, researcher, or academician can be equally well pursued. The program likewise ensures that those residents completing the program will meet the standards of professional excellence adopted by the American Board of Surgery, and will be fully eligible for board certification.
Stony Brook University Hospital, a tertiary care hospital serving Long Island and parts of Connecticut, provides the academic base for our program of residency training.
The members of our surgical staff are all full-time faculty of Renaissance School of Medicine at Stony Brook University and have a serious commitment to resident training. At University Hospital, the resident has the opportunity to rotate not only on the general surgery service, but also to gain experience on cardiothoracic, neurosurgical, pediatric, transplantation, trauma, and vascular surgical services. In addition, surgical residents gain an extensive experience in surgical intensive care during rotations in the surgical intensive care unit, cardiovascular intensive care unit, and the Burn Center.
While University Hospital is the center of residency training, the Northport Veterans Affairs Medical Center serves an invaluable role as a major teaching affiliate for resident training. Attended by the full-time Renaissance School of Medicine surgical faculty, residents gain experience in general surgery, vascular surgery, thoracic, head and neck, and plastic surgery. Junior residents are also exposed to surgical intensive care at the VA Medical Center.
Our annual "Surgical Jeopardy" game, modeled in format after the popular TV show and in content by a game created by the American College of Surgeons, tests and increases the surgical knowledge of our residents.
Winthrop–University Hospital serves as the third major teaching hospital in the residency program. This hospital is noted for its high general surgical volume, as well as the organized series of didactic lectures, that make up the surgical core program.
First-year residents can anticipate spending approximately one-third of their first year at each of the three teaching hospitals — University Hospital, VA Medical Center, and Winthrop–University Hospital. Second-year residents will spend approximately half of the year at University Hospital on the general surgery and specialty services under the direction of a fourth-year resident. The other half of the year is spent at the other two teaching hospitals.
During the third year each resident begins learning how to direct and be responsible for those junior residents working with him or her. Third-year residents rotate on the general, vascular, and cardiac surgery services at University Hospital, the Northport VA Medical Center, and Winthrop–University Hospital.
The residency program is organized so that the fourth-year resident rotations consist of approximately two-thirds of the year on specialty services at University Hospital and the Northport VA Medical Center (including, but not limited to: cardiac, pediatric, and trauma) and the other one-third at Winthrop–University Hospital in general surgery.
The administrative chief resident is responsible for the activities of all residents at Stony Brook University Hospital, the Northport VA Medical Center, and Winthrop–University Hospital. In addition, a resident advisory council that includes all chief residents and a representative from each postgraduate year serves as a liason between the surgical house staff and the faculty. The individual service chiefs also coordinate, direct, and supervise those residents who are on his or her service.
Opportunities are available for select residents to take 1 or 2 years' leave from the regular program to pursue their research interests in one of the surgical laboratories; it is, however, not a mandatory requirement of the residency program that residents do research in basic science. Special one-year clinical fellowships are also available.
Some Facts about Our Program and Parent Hospital
Stony Brook University Hospital, opened in 1980, is a Level 1 Trauma Center — the only one in our region — that treats about 96,760 emergency patients per year.

Our hospital has been ranked in the top 4% of national trauma centers (n = 125) in a measurement of risk-adjusted mortality from injury, by the Agency for Healthcare Research and Quality.

Our state-of-the-art Surgical Simulation Center is dedicated to resident training and offers the latest in simulation and surgical skills technologies to help our residents develop and refine technical skills in a variety of areas, including techniques in laparoscopic and robotic surgery.

Our operating rooms have state-of-the-art provisions for performing the most sophisticated minimally invasive surgery, including robotically-assisted surgery.

Our six graduating residents have consistently achieved a combined operative experience of nearly 6,000 procedures over five years, with about 1,850 performed in their chief year.

Our residents have extensive opportunities to engage in research, including a one- to two-year sabbatical, and are active in publishing scholarly papers and presenting their research at regional, national, and international surgical conferences.

Our residents' pass rate for the American Board of Surgery's Certifying and Qualifying Examination is consistently at or above the 87th percentile, giving our program a top national and state ranking.