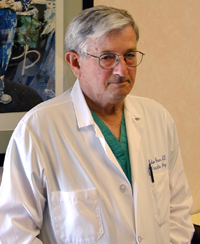 Fabio Giron, MD, PhD, professor emeritus of surgery, passed away last November at the age of 87. He was living at the time with his wife Marilou in Cedar Grove, NJ.
The founding chief of our Vascular Surgery Division (later called Vascular and Endovascular Surgery Division), Dr. Giron had served the Department of Surgery with distinction for 25 years as a surgeon, teacher, and scholar.
Dr. Giron joined our full-time faculty in 1977, when he started his position here as professor of surgery and chief of vascular surgery at the VA Medical Center in Northport, which then served as our clinical campus. From 1980 until his retirement in 2002, he served as chief of vascular surgery at University Hospital.
Dr. Giron was an early leader in the field of vascular surgery and contributed to its recognition as a specialty in the United States.
The Department of Surgery's vascular surgery fellowship, which he directed, was established in the early 1980s when it was in the vanguard as a specialty training program. The program has produced a number of highly acclaimed vascular surgeons throughout the country and abroad.
People called Dr. Giron "a surgeon's surgeon" and his advice was highly sought after here on Long Island and elsewhere. He was vice chairman of the department for many years.
Following his retirement, Dr. Giron continued to participate actively in our weekly vascular surgery conference and our morbidity and mortality conference. In 2008, he was appointed professor emeritus of surgery, and returned to contribute as a voluntary consultant to our education programs for both medical students and surgical residents.
People called Dr. Giron "a surgeon's surgeon" and his advice
was highly sought after here on Long Island and elsewhere.
Dr. Giron was widely recognized for the breadth and depth of his knowledge, and he gave numerous memorable lectures on vascular disease and management to third-year medical students doing their general surgery clerkship.
For being a model academic surgeon, Dr. Giron was honored by the establishment in 2011 of the Fabio Giron Teaching Award in Vascular Surgery presented annually by our Vascular and Endovascular Surgery Division. The awardee is chosen by our vascular residents and fellows.
Born in Sanlucar de Barrameda, Spain, in 1931, Dr. Giron received his MD with honors (premio extraordinario) in 1954 from the University of Valladolid. In 1960, he completed his surgical training in Madrid, after which he served on the surgical faculty of the University of Madrid for four years.
In 1964, Dr. Giron came to the United States. From then until 1970, he pursued research at Tufts-New England Medical Center Hospital in Boston for two years, and then further clinical training in vascular surgery at Mount Sinai Hospital in New York for two years under the tutelage of Dr. Julius Jacobson.
Subsequently, he served for two years as a member of the surgical faculty of Tufts University, from which he received his PhD in 1970, for his thesis entitled "The Effects of Nonpulsatile Flow on the Cardiovascular Control Mechanisms."
During his tenure at Tufts, Dr. Giron contributed to the pioneering work done on external counterpulsation with Harry S. Soroff, MD, later the founding chairman of our Department of Surgery. This innovative non-invasive procedure is currently used for the treatment of chronic or unstable angina and in patients with congestive heart failure.
In 1970, Dr. Giron moved to New York to join the surgical faculty of the Mount Sinai School of Medicine, and to serve as chief of vascular surgery at the VA Medical Center in the Bronx. He then came to Stony Brook in 1977, at the invitation of Dr. Soroff.
Highly respected by his peers, Dr. Giron distinguished himself as one of the "Doctors of Excellence" featured in numerous editions of the Castle Connolly Guide, Top Doctors: New York Metro Area.
Dr. Giron is remembered by those who worked with him for his genius, his humanity, and his humor, but most of all for his expertise in the operating room. He is remembered, as well, by those many students and trainees he taught the art of surgery.
Beyond his professional life, he is further remembered as an expert fisherman who knew the waters of the North Shore better than anybody else, and for his lifelong adoration for the game of soccer (he was a die-hard Barça fan) and for his fascination with politics.