Assistant Professor of Surgery
Board Certification
Education
Medical School
Philadelphia College of Osteopathic Medicine (2010)
Residency Training
General Surgery, St. Barnabas Hospital (Bronx)
Fellowship Training
Burn/Critical Care, Jacobi Medical Center
Breast Surgery, Breast Institute, Northern Westchester Hospital
Affiliated Specialty Center
Clinical Interests/Expertise
Diseases and surgery of the breast

Benign and malignant lesions

Breast conservation

Nipple- and skin-sparing mastectomy

High-risk patients

Woman-centered care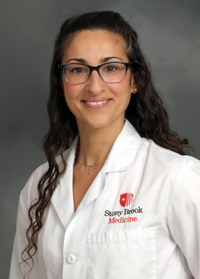 Contact Information
Division of Breast Surgery
Department of Surgery, Health Sciences Center T18-060
Stony Brook Medicine
Stony Brook, NY 11794-8191
Tel: 631-444-5976
Fax: 631-444-6348
For patient care information, including insurance participation and practice locations, click here.
Personal Statement
Publications
Additional
Miglietta MA, Toma GI, Docimo S, Neely R, Bakoulis A, Kreismann E. Premonition of death in trauma: a survey of healthcare providers. Am Surg 2009;75:1220-6.
Moffat LL, Robinson RE, Bakoulis A, Clark SG. The conserved transmembrane RING finger protein PLR-1 downregulates Wnt signaling by reducing Frizzled, Ror and Ryk cell-surface levels in C. elegans. Development 2014;141:617-28.
Languages
English, Greek, Spanish
Memberships
American College of Osteopathic Surgeons
American Society of Breast Surgery
Hellenic Medical Association