Associate Professor of Surgery
Program Director, Vascular and Endovascular Residency
Director, Carotid Interventions
Co-Medical Director, Non-Invasive Vascular Laboratory
Board Certifications
Education
Medical School
Stony Brook University (2009)
Residency Training
Vascular Surgery, Mount Sinai Medical Center (New York)
Affiliated Specialty Centers
Clinical Interests/Expertise
All areas of arterial and venous surgery

Open and minimally invasive endovascular management of all arterial conditions, including thoracic and abdominal aortic aneurysms, upper and lower extremity blockages, renal and mesenteric artery stenosis, and carotid stenosis (see TCAR video featuring Dr. Kokkosis)

All aspects of complex venous disease, including treatment of acute DVT with thrombolysis, pelvic congestion syndrome, and vascular malformations

Minimally invasive treatment of varicose veins and spider veins (venous ablation and sclerotherapy)

All aspects of hemodialysis access creation and maintenance

Lower extremity limb salvage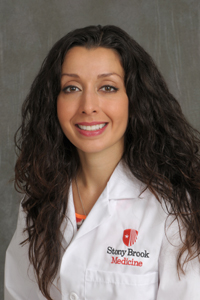 Contact Information
Division of Vascular and
Endovascular Surgery
Department of Surgery, Health Sciences Center T19-090
Stony Brook Medicine
Stony Brook, NY 11794-8191
Patient appointments: 631-638-1670
Tel: 631-444-9120
Fax: 631-444-8988
For patient care information, including insurance participation and practice locations, click here.
Personal Statement
Honors
Publications
Additional
I grew up in Long Island, and completed my undergraduate and medical education through a combined BS-MD program at Stony Brook University. Upon medical school graduation, I went on to pursue vascular surgery training as a member of the integrated vascular surgery program at the Mount Sinai Hospital in New York, NY.

I am happy to have returned to my alma mater to care for the community that raised me.

My clinical areas of expertise include open and endovascular approaches to aneurysmal disease, carotid disease, peripheral arterial disease, dialysis access, and venous disease. I am also fluent in Greek and Spanish, which hopefully opens the doors to communication with the diverse population of Long Island.

Outside of the operating room, I have been highly involved with medical student and resident education at the national level with the Society for Vascular Surgery (SVS). I have served as the chair of the Medical Student Section of the SVS, and most recently as the chair of the Vascular Trainee Section of the SVS.

With respect to clinical research, my areas of interest include peripheral arterial disease in women, venous disease, and dialysis access.

I am extremely honored and excited to be a part of Stony Brook's vascular team, and am committed to giving patients with any vascular ailment the highest quality of care possible.
Fabio Giron Teaching Award, Division of Vascular and Endovascular Surgery, Stony Brook Medicine (2017)
Second-Place Award for Poster Presentation, "Experience of HeRO Dialysis Graft Placement in a Challenging Population," Veith Symposium (2011)
First-Place Award for Oral Presentation, "Role of Accessory Saphenous Veins in Patients with Chronic Venous Disease," LIVE 2010, Corfu, Greece (2010)
MD with Recognition in Research, Stony Brook University School of Medicine (2009)
Altieri MS, Yang J, Jones T, Voronina A, Zhang M, Kokkosis A, Talamini M, Pryor AD. Incidence of ventral hernia repair after open abdominal aortic aneurysm and open aortofemoral or aortoiliac bypass surgery: an analysis of 17,594 patients in the state of New York. Am Surg 2018;84:1388-93.
De Martino RR, Brewster LP, Kokkosis AA, Glass C, Boros M, Kreishman P, Kauvar DA, Farber A. The perspective of the vascular surgery trainee on new ACGME regulations, fatigue, resident training, and patient safety. Vasc Endovascular Surg 2011;45:697-702.
Gasparis AP, Kokkosis A, Labropoulos N, Tassiopoulos AK, Ricotta JJ. Venous outflow obstruction with retroperitoneal Kaposi's sarcoma and treatment with inferior vena cava stenting. Vasc Endovascular Surg 2009;43:295-300.
Jasinski PT, Monastiriotis S, Kokkosis AA. Acute upper extremity ischemia 7 years after arteriovenous fistula ligation. J Vasc Access 2017;18:e35-6.
Kim PS, Kokkosis A, Gasparis A. Recurrent varicose veins: etiology and management. Handbook of Venous and Lymphatic Disorders: Guidelines of the American Venous Forum. 4th ed. Boca Raton: CRC Press, 2017: 485-92.
Kokkosis A, Schanzer H. Anatomical and clinical factors favoring the performance of saphenous ablation and microphlebectomy or sclerotherapy as a single-stage procedure. Phlebology 2015;30:627-31.
Kokkosis AA, Abramowitz S, Malik RK, Ellozy SH, Faries PL, Marin ML. Current endovascular treatment of infrarenal abdominal aortic aneurysms and future directions. Surg Technol Int 2012;22:213-9.
Kokkosis AA, Abramowitz SD, Schwitzer J, Nowakowski S, Teodorescu VJ, Schanzer H. Inflow stenosis as a contributing factor in the etiology of AV access-induced ischemic steal. J Vasc Access 2014;15:286-90.
Kokkosis AA, Abramowitz SD, Schwitzer J, Schanzer H, Teodorescu VJ. Experience of HeRO dialysis graft placement in a challenging population. Vasc Endovascular Surg 2013;47:278-80.
Kokkosis AA, Balsam D, Lee TK, Schreiber ZJ. Pediatric nontraumatic myositis ossificans of the neck. Pediatr Radiol 2009;39:409-12.
Kokkosis AA, Labropoulos N, Gasparis AP. Investigation of venous ulcers. Semin Vasc Surg 2015;28:15-20.
Labropoulos N, Kokkosis AA, Spentzouris G, Gasparis AP, Tassiopoulos AK. The distribution and significance of varicosities in the saphenous trunks. J Vasc Surg 2010;51:96-103.
Monastiriotis S, Gonzales C, Kokkosis A, Labropoulos N, Bilfinger T, Tassiopoulos AK. The use of AngioVac for symptomatic aortic thrombus complicated by mesenteric ischemia. Ann Vasc Surg 2016;32:129.e1-6.
Tassiopoulos AK, Kokkosis AA. A guide to endovascular simulators. In: Tsuda ST, Scott DJ, Jones DB, editors. Textbook of Simulation: Skills and Team Training. Woodbury, CT: Ciné-Med, 2012: 205-17.
Fellow, American College of Surgeons (FACS)
Member, International Society of Vascular Surgery
Member, Peripheral Society of Vascular Surgery
Member, Society for Vascular Surgery