Assistant Professor of Surgery
Course Director, Fourth-Year Medical Student Education
Board Certifications
Education
Medical School
New York College of Osteopathic Medicine (2003)
Residency Training
General Surgery, Stony Brook University
Fellowship Training
Critical Care and Trauma, University of Pittsburgh and Children's Hospital of Pittsburgh
Pediatric Surgical Oncology, Memorial Sloan-Kettering Cancer Center
Affiliated Specialty Center
Clinical Interests/Expertise
Pre- and post-operative critical care of adult/pediatric surgical patients

Surgical management of injured patients—all aspects of pediatric and adult traumatology

Basic and advanced minimally invasive and laparoscopic surgery

Management of diseases involving the liver, spleen, upper/lower gastrointestinal systems

Insertion of vascular access devices

Surgical treatment of solid tumors

Excision of superficial dermal lesions and lipoma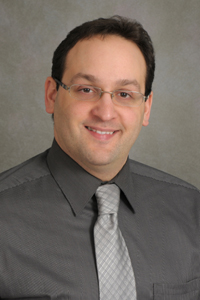 Contact Information
Division of Trauma, Emergency
Surgery, and Surgical Critical Care
Department of Surgery, Health Sciences Center T18-040
Stony Brook Medicine
Stony Brook, NY 11794-8191
Tel: 631-444-8329
Fax: 631-444-6176
For patient care information, including insurance participation and practice locations, click here.
Personal Statement
Honors
Publications
Additional
I am interested in the complete care of the surgical patient involving trauma, surgery in the acute and emergent setting, and surgery on an elective basis. I work with my patients and their families to come up with the best plan of care available including options for minimally invasive techniques as well as conventional surgery. Our team approach at Stony Brook Medicine helps to provide excellent patient care and outcomes while providing the latest techniques and expert care. My goal is provide high-quality and compassionate care for my patients that leaves them satisfied and healthy. My research interests include cancer cellular biology and angiogenesis; physiology of the trauma patient; injury prevention and outcome measures for adult and pediatric injuries; and education and mentoring of surgical fellows, residents, and medical students.
Senior Resident of the Year Award (2009)
Resident award for Excellence in Teaching (2009)
David J. Kreis Jr, MD, Award for Excellence in Critical Care and Trauma (2008)
Senior Resident of the Year Award (2008)
Recognition of Excellence, Intern year (2004)
Inducted into Psi Sigma Alpha National Honor Society (2003)
Copertino LM, McCormack JE, Rutigliano DN, Huang EC, Shapiro MJ, Vosswinkel JA, Jawa RS. Early unplanned hospital readmission after acute traumatic injury: the experience at a state-designated level-I trauma center. Am J Surg 2015;209:268-73.
Jawa RS, Singer A, McCormack JE, Huang EC, Rutigliano DN, Vosswinkel JA. Tranexamic acid use in United States trauma centers: a national survey. Am Surg 2016;82:439-47.
Jawa RS, Singer AJ, Rutigliano DN, McCormack JE, Huang EC, Shapiro MJ, Fields SD, Morelli BN, Vosswinkel JA. Spinal fractures in older adult patients admitted after low-level falls: 10-year incidence and outcomes. J Am Geriatr Soc 2017;65:909-15.
La Quaglia MP, Rutigliano DN. Neuroblastoma and other adrenal tumors. In: Carachi R, Grosfeld JL, Azmy AF, editors. The Surgery of Childhood Tumors. 2nd ed. Springer, 2008: 201-26.
Paran TS, Rutigliano DN, Corbally MT, Kayton ML, La Quaglia MP. Experience with aortic grafting during excision of large abdominal neuroblastomas in children. J Pediatr Surg 2008;43:335-40.
Ross SL, Greenwald B, Howell J, Pon S, Rutigliano D, La Quaglia M. Outcomes following thoracoabdominal resection for neuroblastoma [abstract]. Crit Care Med 2006;34:A74.
Ross SL, Greenwald BM, Howell JD, Pon S, Rutigliano DN, Spicyn N, La Quaglia MP. Outcomes Following Thoracoabdominal Resection of Neuroblastoma. Pediatr Crit Care Med 2009;10:681-6.
Rutigliano D, Egnor M, Priebe C, et al. Decompressive craniectomy in pediatric traumatic brain injury patients with intractable elevated intracranial pressure. J Pediatr Surg 2006;41:83-7.
Rutigliano DN, Georges A, Wolden SL, Kayton ML, Meyers P, La Quaglia MP. Ureteral reconstruction for retroperitoneal tumors in children. J Pediatr Surg 2007;42:355-8.
Rutigliano DN, Kayton ML, Steinhertz P, Wolden SL, La Quaglia MP. The use of preoperative chemotherapy in Wilms tumor with contained retroperitoneal rupture. J Pediatr Surg 2007;42:1595-9.
Rutigliano DN, Meyers P, Ghossein RA, Carlson DL, Kayton ML, Kraus D, La Quaglia MP. Mucoepidermoid carcinoma as a secondary malignancy in pediatric sarcoma. J Pediatr Surg 2007;42:E9-13.
Rutigliano DN, Su WT, Gholizadeh M, Jarnagin WR, Blumgart LH, La Quaglia MP. Hepatic metastasectomy in children. Cancer 2007; 109:2089-92.
Theilin TM, Paran TS, Rutigliano D, Wexler L, Sonoda Y, La Quaglia MP. Experience with retroperitoneoscopy in pediatric surgical oncology. Surg Endosc 2011;25:2748-55.
Fellow, American College of Surgeons (FACS)
Member, New York State Osteopathic Society
Member, Pediatric Trauma Society
Areas of interest:
> Application and use of surgical robotics in pediatric surgery
> Information technologies and its use towards patient care improvement and efficiency
> Use of technology and simulation in the training of surgical residents and in the improvement of the delivery of trauma care