Assistant Professor of Surgery
Board Certifications
Education
Medical School
SUNY Upstate Medical Center (1990)
Residency Training
General Surgery, University of Illinois-Chicago
Fellowship Training
Vascular Surgery, Ohio State University College of Medicine
Affiliated Specialty Centers
Clinical Interests/Expertise
All areas of arterial and venous surgery, using both conventional surgical techniques and minimally invasive endovascular techniques

Arterial conditions related to carotid, aortic, and lower extremity diseases

Venous conditions including varicose veins and venous insufficiency

Lower extremity limb salvage

Open and Endovascular hemodialysis access procedures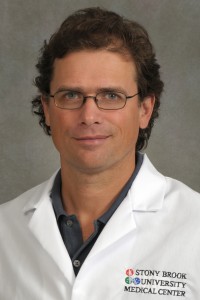 Contact Information
Division of Vascular and
Endovascular Surgery
Department of Surgery, Health Sciences Center T19-090
Stony Brook Medicine
Stony Brook, NY 11794-8191
Patient appointments: 631-638-1670
Tel: 631-444-8114
Fax: 631-444-8998
For patient care information, including insurance participation and practice locations, click here.
Honors
Publications
Additional
Recipient of the Fabio Giron Teaching Award in Vascular Surgery (2013)
Selected for inclusion in the Guide to America's Top Surgeons published by the Consumers' Research Council of America (2009)
Brown KE, Fanciullo DJ, Hicks T, Landau DS, Baraniewski HM, Morasch MD, Matsumura JS, Pearce WH, Eskandari MK, Kibbe MR. Carotid artery stenting compared to carotid endarterectomy performed exclusively in a veteran population: one center's experience with midterm results. Ann Surg 2008;248:110-6.
Landau D, Moomey C, Fiorella D. First-in-man experience with the ReVive PV peripheral thrombectomy device for the revascularization of below-the-knee embolic occlusions. J Endovasc Ther 2014;21:747-54.
Ventarola DJ, Labropoulos N, Landau DS, Tassiopoulos AK, Loh SA. Tibioperoneal trunk aneurysm resulting in compartment syndrome with associated aneurysms of the popliteal and dorsalis pedis arteries. Ann Vasc Surg 2016;35:207.e11-6.
Fellow, American College of Surgeons (FACS)