Board Certifications
General Surgery
Thoracic Surgery
Vascular Surgery
Education
MD
Aristotle University Medical School (1991)
PhD
Athens Medical School (2003)
Residency Training
General Surgery, New York Medical College
Cardiothoracic Surgery, Yale University
Fellowship Training
Advanced Thoracic Aortic Endovascular Surgery, German Heart Institute
Vascular and Endovascular Surgery, Arizona Heart Institute
Vascular and Endovascular Surgery, Stony Brook U
Affiliated Specialty Centers
Clinical Interests/Expertise
Thoracic aortic surgery

Endovascular surgery for the management of abdominal aortic aneurysms

Endovascular and hybrid treatment for thoracic aortic aneurysms
Surgery for stroke prevention (carotid endarterectomy and transcarotid artery revascularization [TCAR])

Lower extremity open and interventional vascular reconstruction

Minimally invasive treatment of venous disease

Hemodialysis access

Wound care (see video)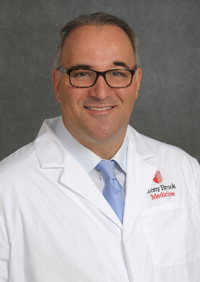 Contact Information
Division of Vascular and
Endovascular Surgery
Department of Surgery, Health Sciences Center T19-090
Stony Brook Medicine
Stony Brook, NY 11794-8191
Patient appointments: 631-638-1670
Academic Office Tel: 631-444-8377
Academic Office Fax: 631-444-8988
For patient care information, including insurance participation and practice locations, click here.
Career
Research
Publications
Additional
Dr. Koullias has pursued a diverse career in cardiovascular surgery that includes his residency in general surgery at New York Medical College followed by his residency in cardiothoracic surgery at Yale University. On graduating from Yale, he returned to Greece to practice adult cardiac surgery from 2003 to 2007 in Athens. He maintained his affiliation as an active researcher at the Yale Aortic Center during this period. His interest in minimally invasive procedures led him to a 4-month fellowship in advanced thoracic aortic endovascular surgery at the German Heart Institute in Berlin, where he gained experience also in the management of aortic complications in patients with Marfan's disease. Subsequently, he returned to the United States to join a group practice in cardiac surgery in Peoria, IL, where he was an attending from 2007 to 2010, and had a faculty appointment at the University of Illinois. During this period, he gained further training in vascular and endovascular surgery at the Arizona Heart Institute, completing a 6-month fellowship there. In 2013, Dr. Koullias completed his 2-year fellowship training in vascular and endovascular surgery here at Stony Brook. An active scholar as well as clinician, he has numerous publications to his credit, including a book he co-authored (The Role of the Endothelium in Coronary Artery Disease, 1997), numerous peer-reviewed articles, and several book chapters.
> Click here to see abstracts/full text of Dr. Koullias's journal articles on PubMed (National Library of Medicine).
Adrahtas D, Jasinski P, Koullias G, Fiorella D, Tassiopoulos AK. Endovascular treatment of a complex renal artery aneurysm using coils and the pipeline embolization device in a patient with a solitary kidney. Ann Vasc Surg 2016;36:291.e5-9.
Botta DM Jr, Elefteriades JA, Koullias GJ. Matrix mettalloprotienases in aortic anuerysm and dissection. In: Elefteriades J, editor. Acute Aortic Disease. Boca Raton: Taylor & Francis, 2007: 131-46.
Brandão D, Koullias GJ, Caparrelli DJ, Diethrich EB. Inferior mesenteric artery stenting: a solution for chronic mesenteric ischemia. Perspect Vasc Surg Endovasc Ther 2009;21:186-9.
Elefteriades JA, Koullias G. Invited commentary. Ann Thorac Surg 2012;93:463-4.
Elefteriades JA, Koullias GJ. Mechanical properties of the aorta—6 cm is "special." In: Elefteriades J, editor. Acute Aortic Disease. Boca Raton: Taylor & Francis, 2007: 125-30.
Elefteriades JA, Koullias GJ. Pacing of the diaphragm. In: Yuh DD, Vricella LA, Baumgartner WA, editors. The Johns Hopkins Manual of Cardiothoracic Surgery. New York: McGraw-Hill, 2007: 323-34.
Hatzaras IS, Bible JE, Koullias GJ, Tranquilli M, Singh M, Elefteriades JA. Role of exertion or emotion as inciting events for acute aortic dissection. Am J Cardiol 2007;100:1470-2.
Korkolis DP, Passik CS, Marshalko SJ, Koullias GJ. Early bioprosthetic mitral valve "pseudostenosis" after complete preservation of the native mitral apparatus. Ann Thorac Surg 2002;74:1689-91.
Korkolis DP, Tsoli E, Fouskakis D, Yiotis J, Koullias GJ, Giannopoulos D, Papalambros E, Nikiteas NI, Spiliopoulou CA, Patsouris E, Asimacopoulos P, Gorgoulis VG. Tumor histology and stage but not p53, Her2-neu or cathepsin-D expression are independent prognostic factors in breast cancer patients. Anticancer Res 2004;24:2061-8.
Koullias G, Modak R, Tranquilli M, Korkolis DP, Barash P, Elefteriades JA. Mechanical deterioration underlies malignant behavior of aneurysmal human ascending aorta. J Thorac Cardiovasc Surg 2005;130:677-83.
Koullias GJ. Invited commentary. Ann Thorac Surg 2009;87:1377-8.
Koullias GJ, Elefteriades JA. Neurological complications in cardiothoracic surgery. In: Little, AG, editor. Complications in Cardiothoracic Surgery: Avoidance and Treatment. Elmsford, NY: Futura, 2004: 405-23.
Koullias GJ, Elefteriades JA, Wu I, Jovin I, Jadbabaie F, McNamara R. Images in cardiovascular medicine. Massive paradoxical embolism: caught in the act. Circulation 2004;109:3056-7.
Koullias GJ, Korkolis DP, Hatzaras IS, Elefteriades JA, Jain D. Immunohistochemical testing for Helicobacter pylori infection in ascending aortic aneurysms and penetrating aortic ulcers. Am J Cardiol 2004;93:122-3.
Koullias GJ, Korkolis DP, Iams WB, Elefteriades JA. Late-onset dysphagia lusoria assessed by 3-dimensional computed tomography of an aortic arch abnormality. Dis Esophagus 2005;18:60-3.
Koullias GJ, Korkolis DP, Wang XJ, Hammond GL. Current assessment and management of spontaneous pneumomediastinum: experience in 24 adult patients. Eur J Cardiothorac Surg 2004;25:852-5.
Koullias GJ, Korkolis DP, Ravichandran P, Psyrri A, Hatzaras I, Elefteriades JA. Tissue microarray detection of matrix metalloproteinases, in diseased tricuspid and bicuspid aortic valves with or without pathology of the ascending aorta. Eur J Cardiothorac Surg 2004;26:1098-103.
Koullias GJ, Kouraklis GP, Raftopoulos IS, Davaris PS, Papadopoulos SA, Golematis BC. Increased estrogen receptor and epidermal growth factor receptor gene product co-expression in surgically resected gastric adenocarcinomas. J Surg Oncol 1996;63:166-71.
Koullias GJ, Pratsinis CI, Korkolis DP, Kouraklis G, Papadopoulos SA, Davaris PS, Golematis BCh. Brief tamoxifen pretreatment enhances the chemosensitivity of gastric carcinoma cells to 5-fluorouracil in vitro. Anticancer Res 2003;23:1575-80.
Koullias GJ, Rammos K. The Role of the Endothelium in Coronary Artery Disease [Greek], 1997.
Koullias GJ, Ravichandran P, Korkolis DP, Rimm DL, Elefteriades JA. Increased tissue microarray matrix metalloproteinase expression favors proteolysis in thoracic aortic aneurysms and dissections. Ann Thorac Surg 2004;78:2106-11.
Koullias GJ, Wheatley GH 3rd. State-of-the-art of hybrid procedures for the aortic arch: a meta-analysis. Ann Thorac Surg 2010;90:689-97.
Lazaris AC, Davaris P, Nakopoulou L, Theodoropoulos GE, Koullias G, Golematis BC. Correlation between immunohistochemical expression of proliferating cell nuclear antigen and flow cytometry parameters in colorectal neoplasia. Dis Colon Rectum 1994;37:1083-9.
Modak RK, Koullias GJ, Govindarajulu US, Tranquilli M, Barash PG, Elefteriades JA. Ascending aortic aneurysms: asymmetrical differences in aortic cross-sectional wall motion detected by epiaortic echocardiography. J Cardiothorac Vasc Anesth 2010;24:776-9.
Rammos KS, Koullias GJ, Pappou TJ, Bakas AJ, Panagopoulos PG, Tsangaris SG. A computer model for the prediction of left epicardial coronary blood flow in normal, stenotic and bypassed coronary arteries, by single or sequential grafting. Cardiovasc Surg 1998;6:635-51.
Sakorafas GH, Lazaris A, Tsiotou AG, Koullias G, Glinatsis MT, Golematis BC. Oncogenes in cancer of the pancreas. Eur J Surg Oncol 1995;21:251-3.
St Rammos K, Ketikoglou DG, Koullias GJ, Tsomkopoulos SG, Rammos CK, Argyrakis NP. The Nicks-Nunez posterior enlargement in the small aortic annulus: immediate-intermediate results. Interact Cardiovasc Thorac Surg 2006;5:749-53.
St Rammos K, Koullias GJ. Immunolocalization of basic fibroblast growth factor receptors in internal thoracic artery and saphenous vein grafts. J Thorac Cardiovasc Surg 1997;113:1111-2.
St Rammos K, Koullias GJ, Hassan MO, Argyrakis NP, Voucharas CG, Scarupa SJ, Cowte TG. Low preoperative HSP70 atrial myocardial levels correlate significantly with high incidence of postoperative atrial fibrillation after cardiac surgery. Cardiovasc Surg 2002;10:228-32.
St Rammos K, Koullias GJ, Hatzibougias JD, Argyrakis NP, Panagopoulos PG. Plasma endothelin-1 levels in adult patients undergoing coronary revascularization. Cardiovasc Surg 1996;4:808-12.
Stamatelopoulos A, Koullias G, Arnaouti M, Donta I, Perrea D, Dosios T. Malignant pleural effusion and talc pleurodesis. Experimental model regarding early kinetics of talc particle dissemination in the chest after experimental talc pleurodesis. J BUON 2009;14:419-23.
Tsangaris S, Rammos KS, Pappou Th, Koullias GJ, Panagopoulos F. The effects of moving walls on pulsatile flows; relation to the coronary flow. Biotecknick 1994;107:477-8.
Virvilis D, Koullias G, Labropoulos N. Bilateral retroesophageal course of the carotid arteries. J Vasc Surg 2013;57:1395-7.
Wheatley GH 3rd, Koullias GJ, Rodriguez-Lopez JA, Ramaiah VG, Diethrich EB. Is endovascular repair the new gold standard for primary adult coarctation? Eur J Cardiothorac Surg 2010;38:305-10.
Wu IH, Koullias GJ, Dewar ML, Henry GA. Hemodynamic compromise from a right coronary artery pseudoaneurysm after remote stent placement. Ann Thorac Surg 2005;79:1062.
> Click here to see abstracts/full text of Dr. Koulllias's journal articles on PubMed (National Library of Medicine).
Reviewer
Annals of Thoracic Surgery
Aorta Journal
Innovation Journal
Journal of Thoracic and Cardiovascular Surgery
Memberships
American Heart Association
Edward Diethrich Vascular Society
European Association of Cardiovascular Surgery
International Society of Endovascular Specialists
Society of Vascular Surgery
Yale Surgical Society