Research Assistant Professor of Surgery
Education
BS
Indian Institute of Technology (IIT), Guwahati, India (2007); field, biotechnology
PhD
Rensselaer Polytechnic Institute (RPI), Troy, NY (2012); field, chemical engineering
Postdoctoral Training
Massachusetts Institute of Technology, Cambridge, MA
Privo Technologies, LLC, Peabody, MA
Research Interests
Tissue Engineering

Rodent Models of Venous Thrombosis

Microbiology of Acellular Dermal Matrices from Breast Reconstruction

Rat Tumor Models

Fluorescent Assays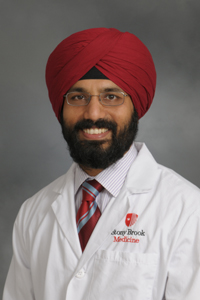 Contact Information
Division of Plastic and Reconstructive Surgery
Department of Surgery, Health Sciences Center T19-060
Stony Brook Medicine
Stony Brook, NY 11794-8191
Tel: 631-444-9265
Fax: 631-444-6007
Grants
Publications
Honors
PI, Small Grants Program Award, Department of Surgery, Stony Brook Medicine, to construct a tissue-engineered vascular graft (2017)
Co-PI, Targeted Research Opportunity Program Clinical Research Awards ($80,000); project titled "The Role of Wound Vacs in Cancer Recurrence" (2017)
PI, Targeted Research Opportunity Fusion Award ($80,000), Stony Brook University, to develop hybrid vascular grafts for vascular and reconstructive surgeries (2016)
MIT Innovation Grant ($155,000), Deshpande Foundation, to develop a tissue-engineering approach coupled with drug delivery for the treatment of oral cancer (2013)
Chandrashekar A, Singh G, Garry J, Sikalas N, Labropoulos N. Mechanical and biochemical role of fibrin within a venous thrombus. Eur J Vasc Endovasc Surg 2018;55:417-24.
Goldberg M, Manzi A, Aydin E, Singh G, Khoshkenar P, Birdi A, LaPorte B, Krauskopf A, Powell G, Chen J, Langer R. Development of a nanoparticle-embedded chitosan sponge for topical and local administration of chemotherapeutic agents. J Nanotechnol Eng Med 2014;5:0409051-11.
Lee V, Singh G, Trasatti JP, Bjornsson C, Xu X, Tran TN, Yoo SS, Dai G, Karande P. Design and fabrication of human skin by three-dimensional bioprinting. Tissue Eng Part C Methods 2014;20:473-84.
Purama RK, Singh G, Majumder A, Dasu VV, Goyal A. Dextransucrase production by leuconostoc mesenteroides NRRL B-640 in bioreactor: effect of aeration and mathematical modelling. J Appl Biosci Biotech 2008;4:9-14.
Purama RK, Singh G, Majumder A, Dasu VV, Goyal A. Dextransucrase production from Leuconostoc mesenteroides NRRL B-640 in batch fermentation. Int J Chem Sci 2007;5:1497-1504.
Simmons TJ, Rivet CJ, Singh G, et al. Applications of carbon nanotubes to wound healing biotechnology. In: Nagarajan R, editor. ACS Symposium Series: Nanomaterials for Biomedicine 2012;7:155–74.
Singh G, Karande P. Peptide-mediated transdermal drug delivery. In: Dragicevic N, Maibach HI, editors. Percutaneous Penetration Enhancers: Chemical Methods in Penetration Enhancement. Berlin: Springer, 2015: 353-61.
Singh G, Klein G, Khan S, Bui D, Dagum A. Development of a novel way to create larger vascular conduits of different biomaterials. Plast Reconstruct Surg Glob Open 2017;5:28-9.
Outstanding Oral Presentation, Department of Surgery Research Day, Stony Brook Medicine (2016)
National Science Foundation Panelist, Graduate Research Fellowship Program (2016)
Postdoc Travel Award for Travel to ERC + EPSRC Joint Meeting in Brussels, Belgium (2016)
Second Prize, Poster Competition, Annual Clinic Day, Nassau Surgical Society (2015)
MIT KI Appreciation Award (2014)
Howard P. Isermann Fellowship RPI, Troy, NY (2007)
IT Carlow Fellowship for Research Internship in Ireland (2006)