Certifications
Board Certifications
General Surgery (American Board of Surgery) 
Education
MD and PhD (Neuroscience)
Stony Brook University (2008)
Residency Training
General Surgery, McGill University
Fellowship Training
Pediatric Surgery, Centre Hospitalier Universitaire Ste Justine (Montreal)
Affiliated Specialty Center
Clinical Interests/Expertise
Surgical management of congenital and acquired anomalies/diseases of the neck, chest, abdomen, anorectum, and soft tissues in children (newborns to adolescents aged 17 years), including, but not limited to, congenital anomalies of the esophagus

Gastroschisis, omphalocele, and esophageal atresia–tracheoesophageal fistula

Necrotizing enterocolitis

Inguinal hernias

Undescended testes

Appendicitis

Tumors of the kidneys, adrenal glands, gastrointestinal tract, lymphatics, and soft tissues

Surgical consultation in pediatric trauma

Minimally invasive laparoscopic surgery

Neonatal surgery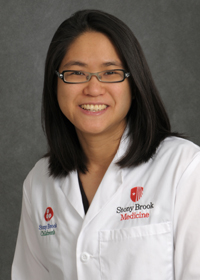 Contact Information
Division of Pediatric Surgery
Department of Surgery, Health Sciences Center T19-090
Stony Brook Medicine
Stony Brook, NY 11794-8191
Tel: 631-444-2045
Fax: 631-444-8824
For patient care information, including insurance participation and practice locations, click here.
Personal Statement
Honors
Publications
Additional
I became a pediatric surgeon first and foremost for the patients. I am excited to return from my surgical training in Montreal to the community where I grew up and studied, in order to serve the people here. I went to high school on Long Island and earned my professional degrees from the Stony Brook Medical Scientist Training Program. With the new Children's Hospital at Stony Brook Medicine, I believe that we have an extraordinary opportunity to provide integrated, cutting-edge, and comprehensive pediatric surgical care. As a physician scientist, I am committed to advancing our understanding of pediatric surgery and improving our patients' lives.
Enrichment Grant, American Pediatric Surgery Association (2016)
Luong T. Nguyen Award for "best performance by a core surgery resident in pediatric general surgery," Montreal Children's Hospital (2010)
Al-Tokhais T, Hsieh H, Pemberton J, Elnahas A, Puligandla P, Flageole H. Antibiotics administration before enema reduction of intussusception: is it necessary? J Pediatr Surg 2012;47:928-30.
Boehm J, Ehrlich I, Hsieh H, Malinow R. Two mutations preventing PDZ-protein interactions of GluR1 have opposite effects on synaptic plasticity. Learn Mem 2006;13:562-5.
Hsieh H, Boehm J, Sato C, Iwatsubo T, Tomita T, Sisodia S, Malinow R. AMPAR removal underlies Abeta-induced synaptic depression and dendritic spine loss. Neuron 2006;52:831-43.
Hsieh H, Frenette A, Michaud L, Krishnan U, Dal-Soglio DB, Gottrand F, Faure C. Intestinal metaplasia of the esophagus in children with esophageal atresia. J Pediatr Gastroenterol Nutr 2017 Feb 28. Epub ahead of print.
Hsieh H, Paquette F, Fraser SA, Feldman LS, Meterissian S, Fried GM, Bergman S. Formal research training during surgical residency: scaffolding for academic success. Am J Surg 2014;207:141-5.
Hsieh HH, Frenette A, Aspirot A, Faure C. Development of intestinal metaplasia in children with esophageal atresia/tracheoesophageal fistula. Dis Esophagus 2016;29:296.
Hsieh HH, Frenette A, Aspirot A, Faure C. Gastric metaplasia in patients with esophageal atresia/tracheo-esophageal fistula (EA-TEF) aged less than 10 years. Dis Esophagus 2016;29:299.
Kamenetz F, Tomita T, Hsieh H, Seabrook G, Borchelt D, Iwatsubo T, Sisodia S, Malinow R. APP processing and synaptic function. Neuron 2003;37:925-37.
Malinow R, Hsieh H, Wei W. Impact of beta amyloid on excitatory synaptic transmission and plasticity. In: Selkoe DJ, A Triller, Christen Y, editors. Synaptic Plasticity and the Mechanism of Alzheimer's Disease. New York: Springer, 2008: 63-7.
Member, American Pediatric Surgical Association
Languages spoken: English, French, Mandarin.