Assistant Professor of Surgery
Site Director, Plastic Surgery Residency
Board Certifications
Education
Medical School
New York Medical College (1998)
Residency Training
Plastic Surgery, Georgetown University, Washington, DC
Fellowship Training
Hand Surgery, SUNY-Stony Brook
Affiliated Specialty Centers
Clinical Interests/Expertise
Reconstructive and aesthetic surgery

Hand surgery, including treatment of hand and wrist disorders, fractures, tendon injury, and nerve injury or compression carpal tunnel syndrome

Microsurgery

Limb reattachment

Breast reduction and augmentation

Nose surgery

Treatment of facial fractures

Reconstructive surgery for burn patients

Facelift, general liposuction, and tummy-tuck surgery

Evaluation and surgical management of chronic wounds (skin grafting and soft-tissue flap coverage)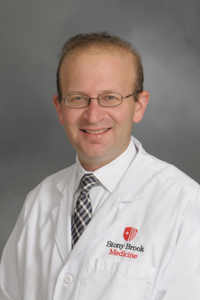 Contact Information
Division of Plastic and Reconstructive Surgery
Department of Surgery, Health Sciences Center T19-060
Stony Brook Medicine
Stony Brook, NY 11794-8191
Tel: 631-444-4666
Fax: 631-444-6007
For patient care information, including insurance participation and practice locations, click here.
Honors
Publications
Additional
Selected for inclusion in Guide to America's Top Plastic Surgeons (2009) published by the Consumers' Research Council of America
Resident Teacher of the Year, Georgetown University, Division of Plastic Surgery (2004)
Lange Medical Publications Award, Lange Medical Publications ("for outstanding achievement as a medical student")
Elected to Alpha Omega Alpha Honor Medical Society (1998)
Carmignani CP, Ismaili S, Ganz J, Kalan MM. Retroperitoneal necrotizing soft tissue infection after appendicitis. Surgical Rounds 2005;28:283-5.
Davison SP, Boehmler JH, Ganz JC, Davidson B. Vascularized rib for facial reconstruction. Plast Reconstr Surg 2004;114:15-20.
Ganz J, Attinger CA. Vastus lateralis muscle flap. In: Evans GP, editor. Reconstructive Surgery of the Chest, Abdomen, and Pelvis. New York: Marcel Dekker, 2004: 377-90.
Hess CL, Gartside RL, Ganz JC. TRAM flap breast reconstruction after abdominal liposuction. Ann Plast Surg 2004;53:166-9.
McComsey GA, Libutti DE, O'Riordan M, Shelton JM, Storer N, Ganz J, Jasper J, Harrill D, Gerschenson M. Mitochondrial RNA and DNA alterations in HIV lipoatrophy are linked to antiretroviral therapy and not to HIV infection. Antivir Ther 2008;13:715-22.
Pagkratis S, Virvilis D, Phillips BT, Bao PQ, Khan SU, Ganz JC, Watkins KT. Creation of gastric conduit free-graft with intraoperative perfusion imaging during pancreaticoduodenectomy in a patient post esophagectomy. Int J Surg Case Rep 2015;9:39-43.
Phillips BT, Fourman MS, Bishawi M, Zegers M, O'Hea BJ, Ganz JC, Huston TL, Dagum AB, Khan SU, Bui DT. Are prophylactic postoperative antibiotics necessary for immediate breast reconstruction? Results of a prospective randomized clinical trial. J Am Coll Surg 2016;222:1116-24.
Phillips BT, Lanier ST, Conkling N, Wang ED, Dagum AB, Ganz JC, Khan SU, Bui DT. Intraoperative perfusion techniques can accurately predict mastectomy skin flap necrosis in breast reconstruction: results of a prospective trial. Plast Reconstr Surg 2012;129:778e-88e.
Spear SL, Carter ME, Ganz JC. The correction of capsular contracture by conversion to "dual-plane" positioning: technique and outcomes. Plast Reconstr Surg 2006;118(7 Suppl):103S-114S.
Spear SL, Ganz JC. Correction of capsular contracture after augmentation mammoplasty by conversion to the subpectoral or "dual-plane" position. In: Spear SL, editor. Surgery of the Breast: Principles and Art. 2nd ed. Philadelphia: Lippincott Williams & Wilkins, 2005: 1436-43.
Spear SL, Ganz JC. Immediate post-mastectomy reconstruction: TRAM flap transposition techniques. In: Mathes SJ, Hentz VR. Plastic Surgery. 2nd ed. New York: Saunders Elsevier, 2006: 835-48
Spear SL, Mardini S, Ganz JC. Resource cost comparison of implant-based breast reconstruction versus TRAM flap breast reconstruction. Plast Reconstr Surg 2003;112:101-5.