Board Certification
Education
Medical School
Virginia Commonwealth University, Richmond, VA 
Residency Training
Oregon Health & Science University, Portland, OR
Fellowship Training
New York Presbyterian-Cornell, New York, NY
Affiliated Specialty Center
Clinical Interests/Expertise
Voice Disorders

Swallowing Disorders

Airway Disorders

Benign and malignant lesions of the larynx

Cricopharyngeal dysfunction

Dysphagia

Hoarseness

Globus sensation

Glottic stenosis

Laryngeal hypersensitivity

Paradoxical vocal fold motion disorder/Inducible laryngeal obstruction

Spasmodic dysphonia/Laryngeal dystonia

Subglottic stenosis

Tracheal stenosis

Upper airway disorders

Vocal fold paralysis

Zenker's diverticulum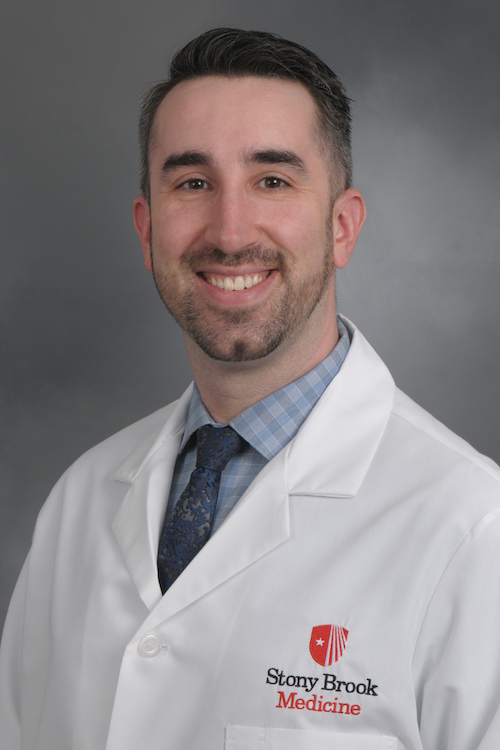 Contact Information
Division of Otolaryngology-Head and Neck Surgery
Surgery, 
Department of Surgery, Health Sciences Center T19-068
Stony Brook Medicine
Stony Brook, NY 11794-8191
Tel: 631-444-8410
Fax: 631-444-7635
 
For patient care information, including insurance participation and practice locations, click here.
Personal Statement
Honors
Publications
Additional
I specialize in the diagnosis and treatment of disease of the throat and larynx (voicebox), including voice, swallowing and upper airway disorders. My expertise lies in the diagnosis and management of these disorders, whether in the office with endoscopy to evaluate the larynx or in the operating room to provide surgical treatment. I also have experience in the latest in office-based treatments for these disorders. I am also dedicated to researching new treatments and developing evidence-based best practices to manage these disorders. 
With a background in vocal performance and musical theatre, I understand how important voice, airway and swallowing is to identity and quality of life. It is my goal to learn about my patients as people and to work together with them to achieve their highest quality of life. My practice philosophy is collaborative and inclusive, and is always centered on the patient.
Travel Grant (AAO-HNS/F BOG Meeting/Leadership Forum)  (2019)

Travel Grant (Society of University Otolaryngologists) (2017)

Virginia Commonwealth Award (Medical School Scholarship)(2010-2012)

Phi Kappa Phi Honor Society (2007)

Golden Key International Honor Society (2007)

University Service Award (Nominated) (2007)

Dean's Merit Award (Undergraduate Scholarship) (2004-2008)

Dean's List (2004-2008)
> Click here to see abstracts/full text of Dr. Chadwick's journal articles presented in reverse chronological order, starting with most recent, on PubMed (National Library of Medicine).
 
Certifications

American Board of Otolaryngology-Head and Neck Surgery
Board-Certified in General Otolaryngology 

New York – Medicine

Oregon – Medicine

Virginia – Medicine
 

Professional Societies
American Academy of Otolaryngology-Head & Neck Surgery (Fellow Member) (2014-present)

American College of Surgeons (Resident Member) (2013-present)

American Academy of Otolaryngic Allergy (Resident Member) (2015-2018)

American Academy of Facial Plastic Surgery (Resident Member) (2014-2018)

Oregon Academy of Otolaryngology (Resident Member) (2014-2018)

American College of Physicians (Student Member) (2010-2013)

American Academy of Forensic Science (Student Member) (2004-2008)