Board Certification
Education
Medical School
SUNY Upstate Medical University (2002)
Residency Training
Otolaryngology, Mount Sinai Medical Center
Fellowship Training
Laryngology, Mount Sinai Medical Center
Affiliated Specialty Center
Clinical Interests/Expertise
Full range of ear, nose, and throat (ENT) care for both adult and pediatric patients

ENT problems of the professional singer and voice user

Voice disorders

Swallowing disorders

Medialization thyroplasty

Arytenoid adduction

Injection laryngoplasty

Transnasal esophagoscopy

Videostroboscopy

Minimally invasive head and neck procedures

General ENT and allergy consultations

Sinus surgery, plus Propel sinus stent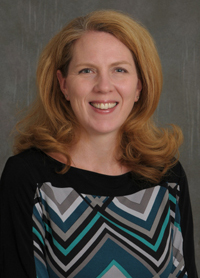 Contact Information
Division of Otolaryngology-Head and Neck Surgery
Department of Surgery, Health Sciences Center T19-068
Stony Brook Medicine
Stony Brook, NY 11794-8191
Tel: 631-444-8410
Fax: 631-444-7635
For patient care information, including insurance participation and practice locations, click here.
Personal Statement
Honors
Publications
Additional
My main practice interests are in the diagnosis and treatment of diseases of the throat. I use the newest technology to aid in diagnosis and treatment of voice, airway, and swallowing disorders.

I truly appreciate the opportunity to listen to patients when they share with me their voice and swallowing difficulties and how it affects them. To be able to help patients understand what is happening to them and to help them get better is a great privilege.

We accomplish this together by discussing their concerns. I have expertise in the latest in-office diagnostic techniques and therapies, as well as in laryngeal reconstructive procedures, to effectively treat voice and/or swallowing issues.
"Best Doctor" selection by Long Island Pulse Magazine (2013)
Letter of commendation for charitable work in the SC Hope Clinic for the Homeless (2002)
Alpha Epsilon Delta National Pre-Medical Honor Society
Alexander AA, Patel NJ, Southammakosane CA, Mortensen MM. Pediatric autoimmune neuropsychiatric disorders associated with streptococcal infections (PANDAS): an indication for tonsillectomy. Int J Pediatr Otorhinolaryngol 2011;75:872-3.
Bayan S, Mortensen M. Unilateral combined laryngocoele with recurrent respiratory papillomatosis: case report. J Laryngol Otol 2010;124:687-9.
Eloy JA, Mortensen M, Gupta S, Lewis MS, Brett EM, Genden EM. Metastasis of uterine leiomyosarcoma to the thyroid gland: case report and review of the literature. Thyroid 2007;17:1295-7.
Mortensen M, Carroll L, Woo P. Arytenoid adduction with medialization laryngoplasty versus injection or medialization laryngoplasty: the role of the arytenoidopexy. Laryngoscope 2009;119:827-31.
Mortensen M, Genden EM. Role of the island deltopectoral flap in contemporary head and neck reconstruction. Ann Otol Rhinol Laryngol 2006;115:361-4.
Mortensen M, Ivey CM, Iida M, Woo P. Superior thyroid cornu syndrome: an unusual cause of cervical dysphagia. Ann Otol Rhinol Laryngol 2009;118:833-8.
Mortensen M, Lawson W, Montazem A. Osteonecrosis of the jaw associated with bisphosphonate use: presentation of seven cases and literature review. Laryngoscope 2007;117:30-4.
Mortensen M, Schaberg M, Woo P. Diagnostic contributions of videolaryngostroboscopy in the pediatric population. Arch Otolaryngol Head Neck Surg 2010;136:75-9.
Mortensen M, Schaberg MR, Genden EM, Woo P. Transoral resection of short segment Zenker's diverticulum and cricopharyngeal myotomy: an alternative minimally invasive approach. Laryngoscope 2010;120:17-22.
Mortensen M, Woo P. An underreported complication of laryngeal microdebrider: vocal fold web and granuloma: a case report. Laryngoscope 2009;119:1848-50.
Mortensen M, Woo P. High-speed imaging used to detect vocal fold paresis: a case report. Ann Otol Rhinol Laryngol 2008;117:684-7.
Mortensen M, Woo P. Office steroid injections of the larynx. Laryngoscope 2006;116:1735-9.
Mortensen M. Laryngeal steroid injection for vocal fold scar. Curr Opin Otolaryngol Head Neck Surg 2010;18:487-91.
Mortensen MM, Woo P, Ivey C, Thompson C, Carroll L, Altman K. The use of the pulse dye laser in the treatment of vocal fold scar: a preliminary study. Laryngoscope 2008;118:1884-8.
Member, American Academy of Otolaryngology-Head and Neck Surgery
Member, American Broncho-Esophageal Association
Member, American Laryngological Association