Assistant Professor of Surgery
Board Certification
Education
Medical School
UMDNJ-New Jersey Medical School (1987)
Residency Training
General Surgery, Lenox Hill Hospital (New York)
Affiliated Specialty Center
Clinical Interests/Expertise
Medical and surgical management of the breast, including both benign and malignant lesions

Management of high-risk patients for screening and care of breast diseases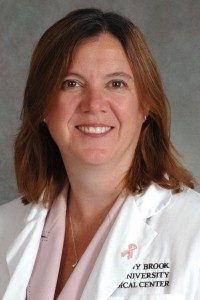 Contact Information
Division of Breast Surgery
Department of Surgery, Health Sciences Center T18-060
Stony Brook Medicine
Stony Brook, NY 11794-8191
Tel: 631-444-5976
Fax: 631-444-6348
For patient care information, including insurance participation and practice locations, click here.
Personal Statement
Publications
Additional
Finding a breast lump or being told of abnormal breast imaging can be very frightening. As a member of the comprehensive breast care team at Stony Brook, I take care of patients with both malignant and benign diseases of the breast. I help guide them through the process and treatment, whether additional diagnostic tests or surgery is needed. My particular interests are in breast-conserving surgery, sentinel node sampling, mastectomy, high-risk screening and preventative surgery. My goal is to provide high-quality care and compassion to all patients.
Adusumilli PS, Lee B, Parekh K, Farrelly PA. Acalculous eosinophilic cholecystitis from herbal medicine: a review of adverse effects of herbal medicine in surgical patients. Surgery 2002;131:352-6.
Baer L, Rogers SC, Farrelly P, Tornos C, Sweeney K. The first case of HER2+ invasive ductal carcinoma arising from a breast hamartoma and literature review. J Natl Med Assoc 2017;109:55-9.
Fellow, American College of Surgeons (FACS)
Participation in national clinical trials allowing use of the latest in therapeutic advances for the treatment of different cancers