Associate Professor of Surgery
Director, Cosmetic Surgery
Medical Director, Bellavie MedSpa
Co-Director, Hernia Center
Board Certifications
Education
Medical School
Medical College of Georgia (1996)
Residency Training
General Surgery, Medical Center of Delaware
Plastic Surgery, Mayo Clinic
Fellowship Training
Aesthetic Surgery & Breast Reconstruction, Charlotte Plastic Surgery
Affiliated Specialty Center
Clinical Interests/Expertise
Reconstructive and aesthetic surgery

Breast reduction and augmentation

Nose surgery

Treatment of facial fractures

Reconstructive surgery for burn patients

Facelift, general liposuction, and tummy-tuck surgery

Evaluation and surgical management of chronic wounds (skin grafting and soft tissue flap coverage)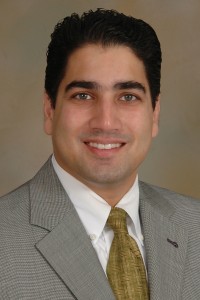 Contact Information
Division of Plastic and Reconstructive Surgery
Department of Surgery, Health Sciences Center T19-060
Stony Brook Medicine
Stony Brook, NY 11794-8191
Tel: 631-444-4666
Fax: 631-444-6007
For patient care information, including insurance participation and practice locations, click here.
Honors
Publications
Additional
AbuRahma AF, Khan S, Robinson PA. Selective use of segmental Doppler pressures and color duplex imaging in the localization of arterial occlusive disease of the lower extremity. Surgery 1995;118:496-503.
AbuRahma AF, Richmond BK, Robinson PA, Khan S, Pollack JA, Alberts S. Effect of contralateral severe stenosis or carotid occlusion on duplex criteria of ipsilateral stenoses: comparative study of various duplex parameters. J Vasc Surg 1995;22:751-62.
Aliano K, Trostler M, Fromm IM, Dagum A, Khan S, Bui D. A comparison of barbed sutures and standard sutures with regard to wound cosmesis in panniculectomy and reduction mammoplasty patients. Plast Surg Int 2016;2016:7590396.
Bhatnagar D, Conkling N, Rafailovich M, Phillips BT, Bui DT, Khan SU, Dagum AB. An in vivo analysis of the effect and duration of treatment with botulinum toxin type A using digital image speckle correlation. Skin Res Technol 2013;19:220-9.
Conkling N, Bishawi M, Phillips BT, Bui DT, Khan SU, Dagum AB. Subjective rating of cosmetic treatment with botulinum toxin type A: do existing measures demonstrate interobserver validity? Ann Plast Surg 2012;69:350-5.
Dagum AB, Park DJ, Lau KN, Khan SU. Antibiotic-impregnated polymethylmethacrylate beads and cement in the treatment of posttraumatic infections of the frontal sinus. Plast Reconstr Surg 2009;123:193e-4e.
Fourman MS, McKenna P, Phillips BT, Crawford L, Romanelli F, Lin F, McClain SA, Khan SU, Dagum AB, Singer AJ, Clark RA. ICG angiography predicts burn scarring within 48 h of injury in a porcine vertical progression burn model. Burns 2015;41:1043-8.
Fulda GJ, Khan SU, Zabel DD. Special issues in plastic and reconstructive surgery. Crit Care Clin 2003;19:91-108, vi.
Gersch RP, Fourman MS, Phillips BT, Nasser A, McClain SA, Khan SU, Dagum AB, Bui DT. AdVEGF-All6A+ preconditioning of murine ischemic skin flaps is comparable to surgical delay. Plast Reconstr Surg Glob Open 2015;3:e494.
Horvath IG, Cziraki A, Parkerson JB, Khan SU, Catravas JD. Effect of acute coronary occlusion on the size of the dynamically perfused coronary capillary bed in the dog. Microvasc Res 1998;56:95-103.
Kanth AM, Khan SU, Gasparis A, Labropoulos N. The distribution and extent of reflux and obstruction in patients with active venous ulceration. Phlebology 2015;30:350-6.
Khan AA, Khan SU, Hossain Z. Intrathoracic migration of a humeral orthopedic pin. J Cardiovasc Surg (Torino) 2003;44:275-7.
Khan S, Teotia SS, Mullis WF, Jacobs WE, Beasley ME, Smith KL, Eaves FF 3rd, Finical SJ, Watterson PA. Do progressive tension sutures really decrease complications in abdominoplasty? Ann Plast Surg 2006;56:14-21.
Klein GM, Nasser AE, Phillips BT, Gersch RP, Fourman MS, Lilo SE, Fritz JR, Khan SU, Dagum AB, Bui DT. Is sterile better than aseptic? Comparing the microbiology of acellular dermal matrices. Plast Reconstr Surg Glob Open 2016;4:e761.
Klein GM, Phillips BT, Dagum AB, Bui DT, Khan SU. Infectious loss of tissue expanders in breast reconstruction: are we treating the right organisms? Ann Plast Surg 2017;78:149-52.
Levites HA, Fourman MS, Phillips BT, Fromm IM, Khan SU, Dagum AB, Bui DT. Modeling fade patterns of nipple areola complex tattoos following breast reconstruction. Ann Plast Surg 2014;73 Suppl 2:S153-6.
Melendez MM, Beasley M, Dagum AB, Khan SU. Outcomes of abdominoplasty performed in an office-based surgical setting [abstract]. Plast Reconstr Surg 2008;122:128-9.
Nasser A, Fourman MS, Gersch RP, Phillips BT, Hsi HK, Khan SU, Gelfand MA, Dagum AB, Bui DT. Utilizing indocyanine green dye angiography to detect simulated flap venous congestion in a novel experimental rat model. J Reconstr Microsurg 2015;31:590-6.
Pagkratis S, Virvilis D, Phillips BT, Bao PQ, Khan SU, Ganz JC, Watkins KT. Creation of gastric conduit free-graft with intraoperative perfusion imaging during pancreaticoduodenectomy in a patient post esophagectomy. Int J Surg Case Rep 2015;9:39-43.
Phillips BT, Bishawi M, Dagum AB, Khan SU, Bui DT. A systematic review of antibiotic use and infection in breast reconstruction: what is the evidence? Plast Reconstr Surg 2013;131:1-13.
Phillips BT, Fourman MS, Bishawi M, Zegers M, O'Hea BJ, Ganz JC, Huston TL, Dagum AB, Khan SU, Bui DT. Are prophylactic postoperative antibiotics necessary for immediate breast reconstruction? Results of a prospective randomized clinical trial. J Am Coll Surg 2016;222:1116-24.
Phillips BT, Lanier ST, Conkling N, Wang ED, Dagum AB, Ganz JC, Khan SU, Bui DT. Intraoperative perfusion techniques can accurately predict mastectomy skin flap necrosis in breast reconstruction: results of a prospective trial. Plast Reconstr Surg 2012;129:778e-88e.
Phillips BT, Wang ED, Rodman AJ, Watterson PA, Smith KL, Finical SJ, Eaves FF 3rd, Beasley ME, Khan SU. Anesthesia duration as a marker for surgical complications in office-based plastic surgery. Ann Plast Surg 2012;69:408-11.
Rodman AJ, Conkling N, Bhatnagar D, Phillips BT, Rafailovich M, Bui DT, Khan SU, Dagum AB. The use of digital image speckle correlation analysis for targeted treatment of upper facial rhytids with botulinum toxin type A [abstract]. Plast Reconstr Surg 2012;130:102.
Teotia SS, Khan SU, Nahai F. Midface rejuvenation. In: Janis JE, editor. Essentials of Aesthetic Surgery. New York: Thieme, 2018.
Fellow, American College of Surgeons (FACS)