STONY BROOK VEIN CENTER EARNS IAC ACCREDITATION, TRUSTED "SEAL OF APPROVAL"
Only Accredited Vein Center on Long Island and National Leader in Vein Care
STONY BROOK, NY, July 10, 2014 — Today the Stony Brook Vein Center was notified that it has been granted full accreditation by the Intersocietal Accreditation Commission (IAC).
IAC accreditation is a trusted "seal of approval" in healthcare today, and demonstrates our commitment to providing quality vein care to our patients.
"Our Vein Center is among only 12 in the United States and the two in New York State to obtain IAC accreditation," says Antonios P. Gasparis, MD, professor of surgery and director of the Vein Center.
Dr. Gasparis adds that at present the IAC has received more than 70 applications for vein center accreditation.
Our Vein Center specializes in providing the most sophisticated diagnosis and treatment — both surgical and non-surgical — for superficial venous disorders, including varicose and spider veins of the leg, among other vein-related conditions.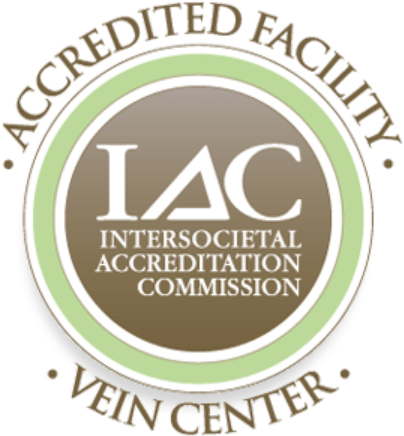 The purpose of IAC accreditation is to ensure high-quality patient care and to promote healthcare by providing a mechanism to encourage and recognize the provision of quality imaging diagnostic evaluations by the accreditation process.
Through the accreditation process, facilities assess every aspect of daily operation and its impact on the quality of healthcare provided to patients. While completing the accreditation application, facilities often identify and correct potential problems, revise protocols, and validate quality improvement programs.
Because accreditation is renewed every three years, a long-term commitment to quality and self-assessment is developed and maintained. Facilities may use IAC accreditation as the foundation to create and achieve realistic quality care goals.
The IAC provides accreditation programs for vascular testing, echocardiography, nuclear/PET, magnetic resonance imaging (MRI), diagnostic computed tomography (CT), dental CT, carotid stenting, and vein treatment and management.
The IAC incorporated all of its divisions into one IAC organization in 2008, but its history began more than 20 years ago with the inception of the first of the IAC accreditation divisions, IAC Vascular Testing (formerly, the Intersocietal Commission for the Accreditation of Vascular Laboratories).
Modeled after the success of IAC Vascular Testing, IAC Vein Center was created last year to accredit vein centers, becoming the seventh member division of the IAC.
Our Vein Center currently has four offices in Suffolk County, the main office in East Setauket and branch offices in Smithtown, Sayville, and Huntington.
Are you suffering from painful swollen, ropey veins on your legs? Our free-of-charge varicose vein screenings provide an examination of the lower legs for venous insufficiency.
IAC information about vein center accreditation aimed at informing patients about its importance. For consultations/appointments with our vein specialists, please call 631-444-VEIN (8346).