WE JUST PERFORMED LONG ISLAND'S FIRST TOTALLY ROBOTIC WHIPPLE FOR PANCREATIC CANCER
Advancing Patient Care with Robotics in Minimally Invasive Surgery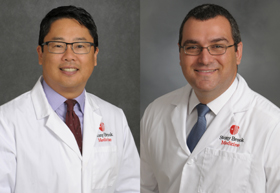 STONY BROOK, NY, September 13, 2017 — Today, the Department of Surgery became the first on Long Island to perform an entire, totally robotic Whipple procedure. The procedure was done by Joseph Kim, MD, and Georgios V. Georgakis, MD, PhD, of our Surgical Oncology Division.
It is expected that the patient will be sent home from the hospital in a few days. That's a benefit of the minimally invasive surgery.
Formally known as pancreatico-duodenectomy, the Whipple procedure — named after surgeon Allen Whipple, MD, who refined it — is performed by surgical oncologists to remove pancreatic tumors and other types of gastrointestinal (GI) tumors
The Whipple procedure is one of hardest GI procedures to perform, either by means of conventional open surgery, or by the minimally invasive laparoscopic approach. Performing this procedure successfully with the robot is a significant surgical feat from the technical point of view, and it offers patients considerable benefits.
The surgeon — not the robot — performs the surgery, and is in full control of the robotic system and the procedure.
In general, the new minimally invasive procedures using robotics offer patients the possibility of diminished postoperative pain, less scarring, fewer complications post-surgery, and earlier discharge from the hospital.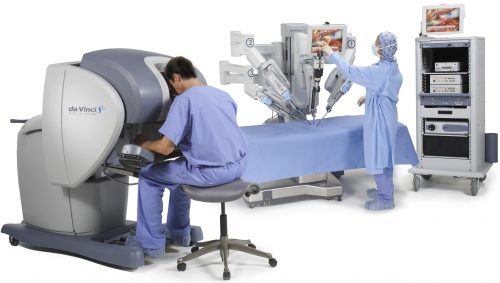 This new robotic approach may also help patients heal quicker, which may be crucial if they need to undergo additional treatment such as chemotherapy or radiation. During the Whipple procedure, a portion of the pancreas — the first portion of the intestine and the last portion of the bile duct — is removed to treat tumors of these organs.
Despite the laparoscopic instrumentation used in the minimally invasive approach to performing the Whipple, the surgeon is often not able to complete the procedure effectively enough, particularly the reconstruction of the intestinal system.
But the use of the da Vinci surgical robot allows reconstruction to be performed accurately and in a more minimally invasive way. At Stony Brook, increasing numbers of patients with cancer are being treated with surgery using robotics, and are benefiting from this advance in care.
Leading the Way in Patient Care
This story is just the latest example demonstrating how the Department of Surgery is on the cutting edge of using advanced technologies to enhance patient care, safety, and operational sustainability. Here are a few other examples of our leadership:
Hybrid Operating Rooms: These rooms are among the most advanced environments anywhere to provide surgical care with advanced imaging matched with advanced surgical procedures. Southampton Hospital has had a hybrid operating room for over a year with Stony Brook Medicine support and direction. This month, Stony Brook University Hospital will be opening two hybrid ORs with the newest generation of hybrid equipment.
Minimally Invasive Surgery: Advanced technology is used increasingly for sophisticated surgical procedures. An example is abdominal aortic aneurysm repairs at Stony Brook Southampton Hospital and Stony Brook University Hospital in which the vascular team performs a procedure with vascular stents that in the past involved significant mortality, loss of blood, and lengthy post-op stays (usually including ICUs). Now patients go home in a day or two, with greater activity and fewer post-op issues.
Robotics: We have been leaders with this form of minimally invasive surgery made possible by our use of the da Vinci robot, which allows for much finer control of the operative procedure. A decade ago, our Cardiothoracic Surgery Division was among the first to integrate this technology into patient care, as well as to train other surgeons from around the country in how to use it. Other divisions in our department — our Colon and Rectal Surgery Division and Otolaryngology-Head and Neck Surgery Division — have been leaders in using the da Vinci robot, as well.
In this particular case, a major oncologic procedure that previously required major interventions and potential complications now has the potential for longer time in the OR but far less time in the hospital, with reduced mortality and morbidity.
Read more about our use of robotics to treat GI cancer. For appointments with our specialists in robotic GI cancer surgery, please call 631-444-8086.