Save Our Masks Campaign
We're proud that two of our physicians, Dr. Alexandra Guillaume and fellow Dr. Rashmi Advani, participated in Stony Brook Medicine's Save Our Masks campaign in May 2020.
This movement recognized how frontline staff throughout the organization have come together in support of keeping Stony Brook University Hospital's N95 masks clean. 
See videos below.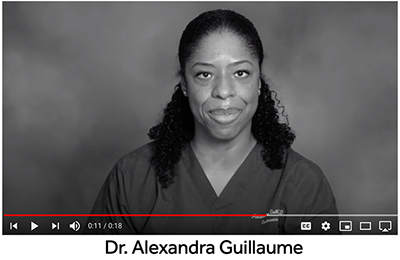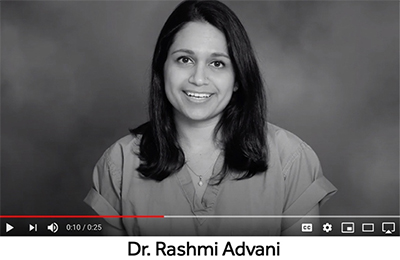 ---
Pilot Project Grant Awards
The 2020 Department of Medicine Pilot Project Grant awards were announced in January 2020. These five funded projects were selected from a slate of many meritorious applications, and supports the important research represented at Stony Brook. We're proud to announce that two GI projects were awarded:
Project title: Targeted molecular approach to therapy of pancreatic neoplasia; PI: Agnieszka Bialkowska, Division of Gastroenterology and Hepatology; Mentor: Vincent Yang.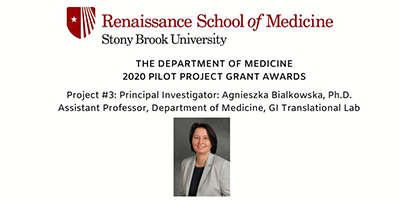 ---
Project title: Targeting NADPH oxidase in pancreatic tumorigenesis; PI: Weiqin Lu, Division of Gastroenterology and Hepatology; Mentor: Vincent Yang
---
Dr. Henry Jen Wins ACG Fellows-In-Training Award 
Dr. Henry Jen, current third year gastroenterology fellow received the American College of Gastroenterology (ACG) Fellows-in-Training Award for the best scientific poster in the GI bleeding category at the 2019 ACG conference.
His poster was titled "Point-of-Care Ultrasound Improves Aspiration Risk Assessment for Anesthesia in Upper GI Bleeding: A Prospective Study".
He is pictured here with ACG outgoing President Dr. Sunanda Kane, MD and incoming ACG President Dr. Mark Pochapin, MD.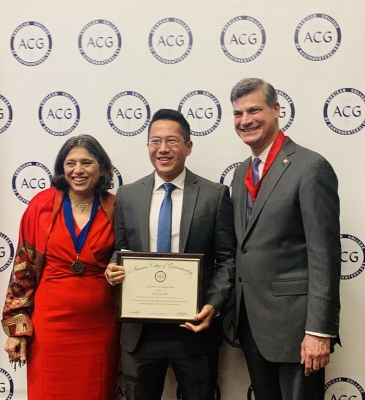 ---
Dr. Jonathan Buscaglia Featured on 96.1 FM 
Dr. Jonathan Buscaglia was featured on a segment on Long Island country music station 96.1 FM.
In the audio clip, DJ Phathead talks to his colleague Candee Roth about the Division of Gastroenterology's amazing staff and his relationship with Division Chief Jonathan Buscaglia, MD. Phathead is an advocate for early cancer screenings and urges those whose doctor prescribes a screening colonoscopy to schedule one right away.

Listen to the segment here!

---
Castle Connolly's Top Gastroenterologists/Top Doctors on Long Island 
The Department of Medicine is pleased to announce that Jonathan Buscaglia, MD, FASGE, AGAF, Division Chief, Gastroenterology and Hepatology, Associate Professor, Department of Medicine and Director, Advanced Endoscopy Program and Dr. Juan Carlos Bucobo, MD, FASGE, Assistant Dean for Clinical Outreach, Associate Professor, Department of Medicine and Chief of Endoscopy, were both selected as two of Castle Connolly's Top Gastroenterologists/Top Doctors on Long Island from Newsday!
The doctors whose listings are included in Castle Connolly's Top Doctors were selected after peer nomination, extensive research and careful review and screening by a doctor-directed research team.
"Since 1991 Castle Connolly Medical Ltd. has been dedicated to helping consumers find the best healthcare in America." - castleconnolly.com
Congratulations Dr. Buscaglia and Dr. Bucobo!

---
Quality Recognition Awarded by ASGE
Stony Brook Medicine's Endoscopy Unit has been awarded continued recognition by the American Society of Gastroenterology Quality Endoscopy (ASGE) as a unit committed to delivering quality and safety in endoscopy since 2008. The ASGE's Endoscopy Unit Recognition Program honors units that have demonstrated dedication to quality improvement and places our organization and staff at the forefront of integrating quality, safety and efficiency into clinical practice.
 
Under the leadership of Karen Wiederkher, RN, Nurse Manager for Endoscopy, and Juan Carlos Bucobo, MD, Director of Endoscopy, and Jonathan Buscaglia, MD, Chief, Division of Gastroenterology and Hepatology, the endoscopy unit has maintained policies, credentialing, staff training, competency assessment and quality improvement activities in order to be eligible for this award.
 
This recognition allows us to use the ASGE "Quality Star" logo. The nationally recognized star is granted to programs that meet the ASGE rigorous criteria. The quality star informs our patients, referring physicians, surveyors and others that we are committed to the highest standards of quality care related to endoscopy. This award distinguishes the entire interdisciplinary team and all the services that support that team together as providing the highest standards of endoscopy care.
To learn more about ASGE and its Recognition Program: ASGE FAQs.