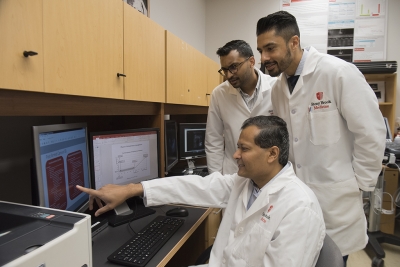 We have pioneered the use of novel resuscitation techniques and training methods directed towards the optimization of brain resuscitation. In particular, the incorporation of a system that measures oxygen delivery to the brain during resuscitation during and after cardiac arrest with the goal of reducing brain injury by matching the oxygen requirements in the brain with oxygen delivery. We have put together a collaborative, inter-disciplinary team focusing on resuscitation excellence as relates to all phases of resuscitation research that is synergistic to our core research activities. We have directed translational research into cardiac arrest resuscitation and formed a dedicated resuscitation research group with the following research areas of interest:
Identification of real-time non-invasive methods to detect the quality of brain resuscitation
Methods to augment oxygen delivery and improve the quality of brain resuscitation during CPR and in the 24-48 hour post-resuscitation period
Development of a model to predict cardiac arrest survival and neurological outcomes (by combining patient related factors and quality of resuscitation related factors)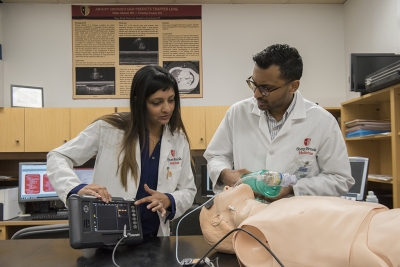 Research Collaboration across Stony Brook University
Resuscitation research at Stony Brook has received significant funding and support from national and international sources. We have also cultivated significant inter-departmental research links and collaboration with colleagues in the following departments across Stony Brook University:
I. Neurology
a. Dr. Dennis Choi, Neuroprotective Strategies
b. Dr. Rebecca Spiegel, EEG during cardiac arrest
II. Emergency Medicine
a. Dr.'s Mark Henry, Adam Singer, and Dr. Henry Thode, Out of Hospital Cardiac Arrest

III. Preventive Medicine
a. Dr. Jie Yang, Biostatistics
b. Dr. Elinor Schoenfeld, Data Management
c. Dr. Stephen Post, Ethical and Transformational Effects of Surviving Cardiac Arrest

IV. Psychiatry
a. Dr. Ramin Parsey, Neurocognitive Aspects of Surviving Cardiac Arrest and Neuroimaging of the Brain during the Post-Resuscitation period

V. Computer Science
a. Dr. I.V. Ramikrishnan, development of web-based tools for resuscitation research

VI. Psychology
a. Dr. Nancy Franklin, development of tests of implicit memory and awareness during cardiac arrest coma

VII. Rapid Response Team
a. Barbara Mills, RN, DNP, ACNP-BC, ANP-BC, PNP, CCRN, PCCN, Director, Rapid Response Team, Code Resuscitation and Nancy Wichtendahl, NP – implementation of highest resuscitation practices following cardiac arrest.

Our research has also attracted many medical and undergraduate students, research fellows, and junior faculty. We've had the privilege to work with and successfully mentor a number of them at Stony Brook University.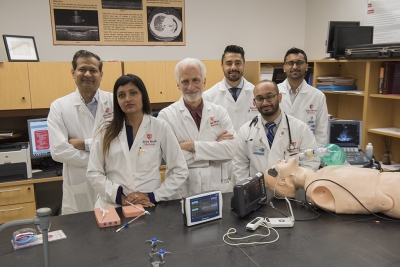 International Research Collaboration
The work started at Stony Brook University has now culminated into an international 15 site multi-center collaborative cardiac arrest network with research being held across diverse medical centers in the US, and United Kingdom. The network's first study commenced in May 2015 and is anticipated to be completed by July 2020. The work carried out has been supported by combined grants received from the American Heart Association Clinical Research Program, New York State Empire Clinical Research Investigator Program (ECRIP) Award, The Templeton Foundation, as well as the Resuscitation Council (UK). The work has also received service support through the National Institute for Health Research in the UK.
The research program is run with a team of collaborating principle investigators at each site. Each of the investigators contributes to the writing of manuscript, and may take the lead on the development of new study designs and protocols.
Research Funding
Support for research carried out by the Resuscitation Research Group has come from a multitude of organizations:
University of California, Riverside

John Templeton Foundation

American Heart Association Clinical Research Program

Stony Brook University TRO Awards

Stony Brook University Department of Medicine Award

New York Empire Clinical Research Investigator Program

Bial Foundation

Resuscitation Council (UK) and the UK National Institute of Health Research (NIHR) – this supports work in the UK