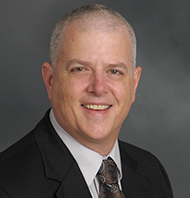 Welcome to the Department of Neurology at Renaissance School of Medicine at Stony Brook University. Whether you are seeking care or here to learn about our exciting clinical training and research programs, I hope you find the site informative.
Stony Brook is the only tertiary care hospital and Level 1 Trauma Center in Suffolk County. Moreover, we offer the only level IV Comprehensive Epilepsy Center and Comprehensive Stroke Center in the region backed by a new, state of the art Neurocritical Care Unit. The Department of Neurology is home to over twenty-five, full-time adult and pediatric neurologists who lead various sub-specialty programs, including the Multiple Sclerosis Center and Lourie Center for Pediatric MS, the Pendergast ALS Center of Excellence, as well as Centers for Parkinson's and Movement Disorders, Neuro-Oncology, and Sleep Disorders. Our patients and trainees benefit from longstanding collaborative relationships with faculty from the Departments of Neurosurgery, Psychiatry, and Neurobiology & Behavior. As evidence of our ability to provide outstanding multidisciplinary care, the Stony Brook Neurology and Neurosurgery service line recently ranked in the top 4% nationally (41stout of 1,241 peer institutions) by U.S. News & World Report for 2020-21.
We offer residency training in adult and child neurology and fellowships in Epilepsy, Clinical Neurophysiology, Vascular Neurology, and Neuroimmunology. We attract outstanding and inquisitive residents seeking exceptional foundational training in clinical neurology and opportunities to pursue translational or clinical research projects. Since 2010 over eighty-five percent of our resident graduates have continued their training at prestigious fellowship programs across the country. Our faculty remain dedicated to providing our trainees with a collegial and supportive work environment and developing the next generation of clinicians, investigators, and educators. And, between an increase in the number of residency training slots to six per year and planned growth in our clinical and research faculty, it is an exciting time for the Department.
Likewise, it is also an exciting time to be an academic neurologist. With sustained investments in cardiovascular and cancer research in the 1970s, we have observed both an increase in longevity and the prevalence of neurological diseases reaching epidemic proportions. With an expected doubling in the elderly population by 2050, common conditions including Alzheimer's disease and stroke will place a disproportional burden on our patients, families, and the healthcare system. To answer this call, investigators at the Stony Brook Neurosciences Institute are developing new imaging approaches, diagnostic tests, and disease-modifying therapies. Simultaneously, our care teams continue to use a data-driven approach to ensure optimal patient outcomes in both the hospital and outpatient settings.
Stony Brook University is considered the flagship institution of the SUNY system, hosting over 24,000 undergraduate and graduate students. We are also a member of the Association of American Universities (AAU), an invitation-only organization whose 62 members are the leading public and private research universities in the U.S. and Canada. The medical center is home to the Renaissance School of Medicine, Nursing, Dental Medicine, Health Technology & Management, and Social Welfare. Stony Brook University co-manages and partners with the renowned Brookhaven National Laboratory in neuroimaging and other areas. Among Stony Brook's signature contributions to medicine is the invention of magnetic resonance imaging, the discovery of the Borrelia spirochete causing Lyme disease, and the development of the anti-thrombotic drug Abciximab.
It is a privilege to serve as chair for this talented group of clinicians, educators, and researchers. As you explore the site, I hope that are able see for yourself what makes the Neurosciences Institute and Stony Brook Medicine an exceptional place for our patients, trainees, and colleagues.
Sincerely,

Marc Halterman, MD, PhD
Professor & Chair, Department of Neurology